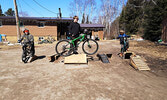 Question of the Week:
Last week we asked what activities you are looking forward to, or may already be doing, this spring at home or while physical distancing outside?
Shannon Brody
I will be starting my seedlings soon. I want to build a raised garden, and possibly a new swing set for the kids!
Rosanna Jacob
Hunting and fishing.
Jennifer Epple Linden
Many bicycle rides!
Nancy McCord
Our boys have been having a lot of fun with their homemade bike ramps!