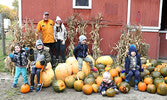 Pumpkin sale!
Approximately 250 pumpkins were for sale by donation at the Cedar Bay Stable on Oct. 3.
"I've been helping out with the barn here for 10 years. We had a horse here," shared Friends of Cedar Bay member and Sioux Lookout resident John Bailey.
"I decided to start growing pumpkins about five years ago on this property, just for fun, and to raise money for the barn," he explained.
Assisted by his daughter Blythe, the second annual pumpkin sale nearly sold out, with funds raised supporting the stable operations.
From left: Monroe Caul, Brooks Caul, John Bailey, Blythe Bailey, Myles Nielsen, Mabel Nielsen, and Jett Hordy.