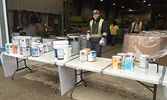 Public Works hosting Residential Hazardous Waste Collection Event
Reeti Meenakshi Rohilla - Staff Writer
The Municipality of Sioux Lookout's annual Household Hazardous Waste Collection Event will be held on Saturday, September 19, between 8 a.m. and 3 p.m., at the Public Works Garage, located at 41 Fifth Avenue. The event aims to give residents of the Municipality, the opportunity to properly dispose of their household hazardous waste, free of charge.
Manager of Public Works Andrew Jewell said, "Hazardous waste drop off is free of charge and limited to the specific waste types listed. The event is hosted for the collection of household hazardous waste generated from the residential sector only; hazardous waste that is generated from commercial and/or industrial sectors is not accepted at this collection event."
"Residents attending the event will be directed by staff to the drop off area to ensure physical distancing is maintained; all COVID-19 policies and guides that are currently implemented will need to be adhered to. Although the waste drop off area will be located outside of the Public Works garage (not in an enclosed public space), residents attending the event should still consider wearing face masks when outside of their vehicles," Jewell added.
The full list of residential household hazardous waste items that can be dropped off for disposal can be found in this week's Municipal Messages as well as at https://bit.ly/357JhUD.