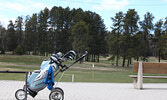 Projected early golf season postponed due to extended stay-at-home order
Reeti Meenakshi Rohilla -
Staff Writer
The Ontario government strengthening enforcement of the province's stay-at-home order, aiming to curb the rapid growth in COVID-19 case rates, has elongated the wait for golf enthusiasts to get back on the course.
This year's golfing season, which had been projected to start early, is now expected to run its usual span starting around mid-May, given no further COVID-19 restrictions are imposed. Sioux Lookout Golf and Curling Club Manager Sheila Suprovich shared, "With the announcement yesterday and new restrictions, it will delay opening until May 20 at the earliest, provided they don't extend it." She added, "The course usually doesn't open until mid-May, so the restrictions only hinder our ability to open early. We should still have a regular length season once the restrictions are lifted."
With the snow melting a lot sooner than past seasons, and the course coming through the winter in good shape, Suprovich said that the club was expecting an early start to their golf season. She added that they had started preparations on the golf course in early April.
The club currently has 71 members and is inviting people to take advantage of their early bird, 2020 pricing, in place until the end of April. A list of membership options and further updates can be found on Sioux Lookout Golf and Curling Club's Facebook page.
"The club is confident that we will have an outstanding season regardless of the pandemic. We have many loyal members who we thank for their patience as we know they are eager to hit the course. We will open as soon as restrictions are lifted," concluded Suprovich.
The provincial government announced on April 16 that it intended to implement public health and workplace safety measures, effective Saturday, April 17, at 12:01 a.m., which included closing golf courses.