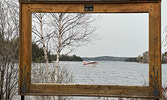 Preparing for take off
This float plane was spotted taxiing on Pelican Lake on May 15 as it prepared to take off from the Travel Information Centre bay.
The plane was sighted through a wooden frame located at the Travel Information Centre, which is dedicated to the memory of community visionaries, leaders, and philanthropists, the late Harvey Friesen and Marnie Hoey.

Wednesday, May 17, 2023
The Kenora District has achieved Reaching Home Coordinated Access through its strategies and local effort to end chronic homelessness...