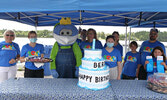 Preparations underway for 39th Annual Blueberry Festival
Reeti Meenakshi Rohilla -
Staff Writer
The Sioux Lookout Blueberry Festival Committee is committed to transforming their operations as required by the evolving COVID guidelines, to ensure delivery of yet another successful festival. This year's festival is scheduled to run from July 30 to August 8.
"We are definitely planning a festival," said Blueberry Festival Coordinator Jessica Darling. "It's hard to say what it will look like at the end of July and August, when we have the festival. But, we are expecting it to work similar to last year. We are not sure exactly what the lineup of events would be. But, we are pretty optimistic, and of course, we'll be very safe and follow all the guidelines for COVID," she added.
Darling said that while they are still in the early stages of their planning process, so far, they have two registered events, along with several committee run events, and a few more in the planning process. "We are absolutely looking at virtual events and if it's safe, some outdoor events, like our drive-thru events that we held last year. It is definitely changing the way the festival is run from previous years. But, I feel that after last year, we have adapted pretty well, and we have learned how to go about it. So, we hope the 2021 festival will be a little more seamless than last year."
Darling shared that some of the events that the festival committee plans to conduct this year include Bert's Birthday Party in a drive-thru format, the biggest blueberry contest, kids coloring contest and the geocaching event from last year, to name a few.
Darling said that this year, again, their normal fundraising initiatives wouldn't be possible, with t-shirt sales continuing to be a crucial support for the festival. She said that the festival t-shirts are currently available for pre-orders, and can be purchased at https://forms.gle/LFHBJmpvAgkMATK6A.
Darling said, "We will accept almost every event. We love to see a big array of things for everyone to do. So, definitely anyone who is interested in registering an event, definitely reach out to us and we will be happy to help out in the planning of that." The deadline for sponsorships, or to register an event is June 18. Those interested may reach out at [email protected] or call at (807) 737-3227. Further information regarding the festival can also be found at the Sioux Lookout Blueberry Festival Facebook page, or their website at www.blueberrybert.com.
In March of this year, the Sioux Lookout Blueberry Festival was awarded the Adapt-Pivot-Evolve Achievement Award from Festival & Events Ontario in recognition of adapting to, and delivering a successful festival last year, amidst the pandemic. Darling said, "It is very rewarding for myself and the committee. Last year was a tough year for planning the festival, as it was very different from the years before, and it's very nice to be recognized, and I know the committee feels the same way."
The Sioux Mountain Music Festival, a long-standing Blueberry Festival event, has already signed up as part of this year's festival, with hopes to air virtually on August 8, between 2 p.m. and 10 p.m.
Coordinator for the Nishnawbe-Gamik Friendship Centre's Sioux Lookout Multi Cultural Youth Music Program, Tommy Kuzemczak, who has been running the Sioux Mountain Music Festival since 1989, said that details regarding this year's music festival format will depend on the COVID restrictions at the time.
"I really don't think it's going to happen this summer down at the beach. That is almost a guarantee," said Kuzemczak. "The festival, it may be a little different than other years, but it will be close to what we had last year. But it is going to happen. And the fact that we are having the festival, it just keeps the kids with a little bit of normalcy," he said, adding, "At this point, that's the way it's gonna be. But if things change, we'll roll with it. It is important for everyone to be safe."
Kuzemczak said, "This year was so uncertain. I knew I wanted to have a festival, and in April, I was thinking, I don't think it's going to be a live festival. But I don't know. That's up to how people respect the pandemic." He said that as a fallback option, they are going to use pre-recorded performances captured by artists in their homes, which will then be put together into a virtual show. Kuzemczak said that he is expecting to have 18 to 20 performances for this year's music festival. Interested musicians may reach out to Kuzemczak through The Sioux Mountain online Music Festival 2021 Facebook page.
Preparing for a virtual festival this year, Kuzemczak said that he is hopeful and excited to exponentially expand for next year. "The next year, once that stage is ready down there (at the town beach), and once the pandemic restrictions are lifted, next year will be like you have never seen before. We are thinking over a couple days, and we're thinking that we're gonna be…trying to make it bigger than what Sioux Lookout has ever seen."
Darling concluded, "I just hope to keep the Blueberry Festival spirit alive, even if we are not able to hold a large festival, it's nice to keep the tradition going, and I think it will be good to bring some joy to our town."