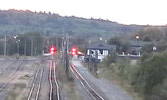 Police investigating pedestrian fatality
Tim Brody - Editor
Sioux Lookout OPP and CN Railway Police officers are investigating following a report last week of a pedestrian being struck by a Canadian National Railway train in the CN train yard in Sioux Lookout in the area of Third Avenue and Front Street.
When police arrived, the person was found dead.
Sioux Lookout OPP responded to the report on Sept. 5 at approximately 12:06 a.m.
A post mortem examination was held on September 6 in Kenora to confirm positive identification of the deceased person, and to allow for notification of next of kin.
Foul play is not suspected.
As of Monday morning (September 9), no further details had been released.