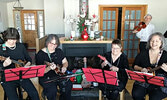 Plays with Strings returns for sophomore Facebook Live concert
Mike Lawrence -
Staff Writer
After a successful, if somewhat nerve-racking first Facebook Live performance last year, the ladies behind local musical group Plays with Strings were back for "Another Covid Christmas Concert" on Dec 12, this time with special musical guest Meritt Penner, on violin.
Plays with Strings is a quartet of ukulele players formed by Katherine Brunton, Denise Williams, Sharen Madden and Alyson Martin. Although last week they were gearing up for only their second Facebook Live concert, it turns out the four have been honing their craft for a while. As Katherine Brunton, a founding member of the group explained in a conversation ahead of the concert, the name for the group was actually a play on words, stating, "We all knew each other to some degree through Pat Uren's knitting group, the Northern Knitters. That's kind of why we named our group Plays with Strings, we wanted to connect our ongoing knitting hobby with our new ukulele hobby and they both involved strings in different ways."
So how do four knitters wind up preforming as a ukulele quartet? As Brunton explains it, everything just sort of fell into place, commenting, "Denise got a ukulele and had lined up lessons with Tommy Kuzemczak, and I already had a ukulele and was trying to learn on my own. I asked if I could join her lessons, so her and I went once or twice to Tommy and then Sharen got herself a ukulele and joined us." However, as Brunton relates, the transition from lessons to stage happened a bit faster than they could have predicted, or wanted. "We were taking lessons with Tommy as a trio for about two weeks when Tommy announced that he wanted us to play at his Christmas concert. And we, being smart ladies, said no! We knew two chords and not one song yet. But Tommy was very persistent, and finally we agreed.
"We learned two Christmas songs, Good King Wenceslas and Oh Tanenbaum, got up on stage and played them with our very limited ability. We all agreed it was absolutely terrifying! We worked very hard to be able to play these two songs, and after it was over, we found that it was quite invigorating and wonderful, and we were hooked. None of us are musicians, with background or experience or anything, so we were really nervous to get up on stage, but it's a pretty forgiving crowd when Tommy has his concerts down at the Youth Centre, but still, it was scary."
Brunton continued, "At first it was the three of us. We played for a couple more years like that, then Alyson joined in, so now it's the four of us. I can't speak for everyone, but I got into it because I wanted to learn an instrument because it is supposed to be so good for your brain. I had a friend who lived far away and was learning ukulele and it seemed fun. I think it was sort of the same thing with Denise. Her whole family, her husband and her daughter, are musicians, so she was already somewhat exposed to music with them. Sharen's husband plays quite a few instruments including ukulele, so I think that's what kind of sparked her interest. Alyson's father played ukulele, so I believe that knowing us, and seeing us play, she wanted to try it herself. That's how we all ended up where we are now."
From Kuzemczak's concert, the group began to expand their experiences playing live. Brunton laid out the timeline stating, "After we did that first concert with Tommy, we did a couple of other things. We played the Sioux Mountain Music Festival one year, then we started our regular sort of thing where we would play at Extended Care as often as we could, all while busy and working and everything. It was maybe once a month or once every couple of months that we would play at Extended Care. By the fall and winter of 2019, we had reached a point where we were feeling like it was time to play more places. Twylla Penner actually contacted me and asked if we'd like to play for the Friendship Centre's Christmas kids party, so we played there. We were lined up to play at Pelican Lake Sandwich Company on a Saturday and were feeling much more ready….and then COVID hit."
As with so many other aspects of life, COVID changed everything.
Brunton continued, "Our playing really came to a halt. Denise is the Preventing Infectious Diseases Manager at the Sioux Lookout First Nations Health Authority, so she was swamped. Sharen was working then, and when the vaccine came, she took part in Operation Remote Immunity… we weren't playing or practicing or anything. At some point when the lockdowns relaxed a bit, we finally started getting together with masks and just practicing a little. I guess we just felt that, with COVID, we can't do anything. We all had no plans for Christmas, were all staying here, staying home. We just thought we can't even play Extended Care, so let's try this online (Facebook Live) thing for this small audience.
"Playing was therapy! During the pandemic when you can't do anything else, getting together and making some music was absolutely wonderful. I'm sure without the pandemic we never would have a done a live Facebook type of concert. It was great. It was certainly not polished, and it won't be this year, it's my cellphone recording the whole thing!"
The format for the group's second Facebook Live performance included an appearance by a special musical guest, Meritt Penner. Brunton explained prior to last Sunday's performance, "This year Twylla Penner's son Meritt, who is an exceptional musician, is going to play violin with us. We have some of our favorite songs, including those two songs that we first ever played which are still in our Christmas playlist. We'll play a few songs, then we'll bring Meritt in and we'll play some songs with him, and he's going to play some on his own. We will play a few more, and then at the very end Meritt will come back in and join us for the last song.
"I think it's going to be somewhere around forty minutes long based on our practices. We'll be sitting in front of Sharen's fire, playing our ukuleles and hoping that we don't do anything too crazy! The beauty of Facebook Live is that it means our family and friends that are far away can also take part in it. It's just really a great way to have such a positive community event while relatively isolated in somebody's living room during the pandemic."
When asked about joining the group for Sunday's concert, Penner, who has been playing violin since he was quite young, stated, "I think it's a good thing. It's trying to raise support for the (Plays with Strings) ukulele group here in town. I think it might even boost how many people join to watch." When asked about his chosen instrument, Penner went on to add, "I've been playing violin since I was two. My grandpa plays violin and my mom thought piano was too boring." As for other instruments, Penner responded, "I mostly play violin, but I can play piano as well if I need to." Penner will also be performing with the Thunder Bay Youth Symphony Orchestra later this month. Speaking of the upcoming concert, Penner explained, "We've been practicing for about three or four months online, then I went down for a sectionals practice." Twylla Penner, Meritt's mom, clarified, "Meritt is also performing live with the Thunder Bay Youth Symphony Orchestra on December 19th - 3 pm Central. They will have the link online at the TBSO website (https://tbso.ca/)- so everyone can listen to some music without the traveling, if they want."
Anyone who missed "It's Another Christmas Covid Concert", can watch a recording of the performance on Facebook at https://bit.ly/3lUUKyu.