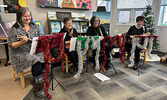 Plays with Strings performs to full house at Sioux Lookout Public Library
Tim Brody - Editor
It was a full house on Dec. 17 at the Sioux Lookout Public Library (SLPL) for the Plays With Strings ukulele quartet's Christmas concert.
The quartet, made up of Alyson Martin, Katherine Brunton, Denise Williams, and Sharen Madden, performed holiday favourites such as Jingle Bells, Good King Wenceslas, and Do You Hear What I Hear?
Their rendition of Baby It's Cold Outside was especially well received, drawing chuckles and applause.
Brunton, a founding member of the group, said this was their quartet's fourth Christmas concert.
She said she, Williams and Madden played their first as part of the Multicultural Youth Centre's Christmas Concert, organized by Tommy Kuzemczak.
Brunton recalled, "He just said, "you guys are playing" and we didn't know any songs… he said, "you've got to learn two songs", and so that's what we did."
"The great thing is we didn't start doing this to perform, we just thought it would be fun," she added.
The group began to play and more and move venues in Sioux Lookout after that until the COVID-19 pandemic shut things down.
"We were just starting to actually become performers, and then it all shut down. And that's when we went online at Christmas and discovered how fun that can be," Brunton said.
Brunton and Martin said they were surprised and delighted at the size of the crowd which visited the library to hear them perform.
Shawn Bethke, SLPL CEO, said the performance was recorded and people will be able view it online, "We'll be uploading the full concert video to our YouTube page and that will be linked to our Facebook page."
"I think we had about 40 or so people out, that's a big crowd for the library," he added.
"It was lovely to host them. It was fantastic. They're library users and we're happy to support the arts in Sioux Lookout and area. It's wonderful to have the library filled with music and art," he concluded.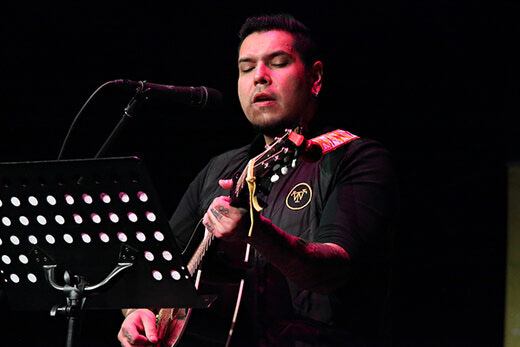 Tuesday, December 20, 2022
The Sioux North High School cafetorium was filled with the sounds of holiday music on the evening of
Dec. 16 courtesy of the Sioux Lookout Multi-Cultural Youth Music Program, a program of the Nishnawbe-Gamik
Friendship Centre...