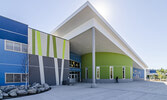 Pikangikum First Nation school among honorees recognized by OAA, MPPs
Tim Brody - Editor
Eenchokay Birchstick School in Pikangikum First Nation is one of nine projects selected by a jury of architects for this year's Queen's Park Picks online exhibit.
"The Ontario Association of Architects (OAA) celebrates World Architecture Day in 2023 with its reveal of the selections in its annual Queen's Park Picks (QP Picks) program—a collaboration with Members of Provincial Parliament (MPPs) across the province who share a passion for our built environment in all its many forms. A special online exhibition launched on Tuesday, October 3 highlights the nine outstanding buildings chosen this year.
"World Architecture Day traditionally takes place on the first Monday of October. However, in observance of both the National Day for Truth and Reconciliation and the provincial government motion cancelling its sitting on October 2, the OAA instead unveiled the 2023 Queen's Park Picks online today at www.oaa.on.ca/QPP," the Ontario Association of Architects shared in an Oct. 3 media release.
"This year's theme, chosen by the International Union of Architects (UIA) Council, is "Architecture for Resilient Communities." Appropriately, numerous QP Picks buildings incorporate elements of enduring durability, climate action, and adaptability as principles," OAA shared, adding, "Whether heritage projects or more recent construction, these buildings represent a design philosophy that prioritizes long-term sustainability over short-term gain and recognizes the crucial role of architecture in addressing challenges and place-making within communities."
Nominated by Kiiwetinoong MPP Sol Mamakwa, Eenchokay Birchstick School was completed in 2016 by Number Ten Architectural Group. "This educational facility stands as a testament to resilience. The Pikangikum-based school was rebuilt after a devastating fire destroyed the original building, and served as a catalyst for community-wide infrastructure improvements, including ice road work, and a new diesel generating station. The school not only embodies the community's values, culture, and traditions, but also promotes bilingual education and places a strong emphasis on preserving the Anishinaabemowin language, in which 97% of residents are fluent," OAA shared.
The eight additional buildings chosen include:

• Brooklin Community Centre and Library in Whitby
Architect: Perkins+Will Canada Inc.
Nominated by MPP Lorne Coe (Whitby)

• Hospice Peterborough in Peterborough
Architect: Lett Architects
Nominated by MPP Dave Smith (Peterborough —Kawartha)

• Kingston City Hall in Kingston
Architect: George Browne
Architects of Renovation: Harry P. Smith and Neil MacLennan (1971), Alexander Wilson Architect Inc. (2001)
Nominated by MPP Ted Hsu (Kingston and the Islands)

• Kirkfield Lift Lock in Kirkfield
Engineer: Richard Birdsall Rogers
Architects of Renovation: In2Space (interior design)
Nominated by MPP Laurie Scott (Haliburton–Kawartha Lakes–Brock)

• Old Strathroy Post Office in Strathroy
Architect: Thomas Fuller
Nominated by Monte McNaughton (former MPP for Lambton–Kent–Middlesex)

• Prosserman Jewish Community Centre in Toronto
Architect: IBI Group (now Arcadis) Nominated by the Hon. Michael Kerzner (York Centre)

• The Public Service Alliance of Canada Building in Ottawa
Architects: Schoeler & Heaton Architects Inc.
Nominated by MPP Joel Harden (Ottawa Centre)

• Terrence Donnelly Centre for Cellular and Biomolecular Research in Toronto
Architects: Architects Alliance with Behnisch Architekten
Nominated by MPP Jessica Bell (University–Rosedale)

"Our annual Queen's Park Picks program is a testament to Ontario architecture, both in the present and in the past," stated Settimo Vilardi, president of the OAA's governing Council. "This year, as we celebrate virtually, it is heartening to see our MPPs nominating such a thoughtful range of buildings that not only showcase form and function in different ways, but also embody sustainability and adaptability. We are happy to continue collaborating with members of the provincial government in highlighting the importance of architecture in the everyday lives of Ontarians."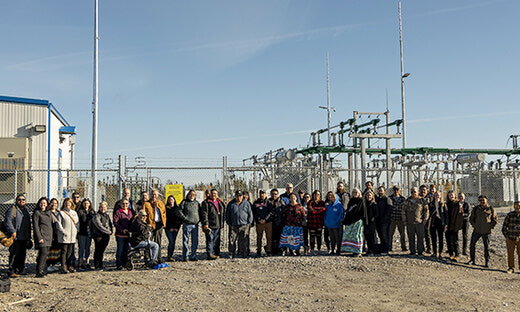 Wednesday, October 25, 2023
Kasabonika Lake First Nation is the latest First Nation community to be connected to the provincial power grid through the Wataynikaneyap Power transmission system...