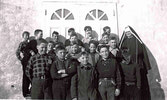 Pic of the Past:
Sacred Heart School Circa 1950
Photo taken at original Sacred Heart School building. Circa 1950.
Back row from left: Allan Pizziol, Berry Jewell, Mario Facca, Bobby Love, ?, Steve Bugera and Norman Roy.
Second row from left: ?, Michael Creedon, Garry MacDonald and and Sr. M. St. Eusebie (Betty Kennedy).
Front row from left: Terry Duff, John Trubyk, David Creedon, Dale Currier, Roman Shukys, Giles Isabey, Arthur Calucci and Donny Maskerine.