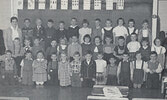 Pic of the Past:
Grade 1 – 1956.
Left to Right: Barry Vondette, Melvin Sherman, Mary Rose Desordi, Fernando Corvello, Margaret Fenelon, David Carroll, Dennis Nestrovich, Judy Toppozini, Carlo DeRose, Franko Gervasi, Mary Roy, Frank Durante. Second Row: Andy Lahaie, Jackie Roy, Rody Pizziol, Gerry Legros, Elizabeth Ivanowich, Freddie LaRocque, Pamela Carter, Mary Lou Facca, Willie Young, Remi Lorteau, unknown, unknown, Cherryl Makahonuk. Back Row: Vivianna Bellon (teacher), Cosco Carlbom, Henry Shukys, Roger Saltel,
George Roy, Louie Prior, Suzanne Lorteau, unknown, Joanne Johnston, Jane Moran, Linda Clarke, Dennis DelRizzo.
Tracks Beside the Water Vol. 1 – From September 20, 2017 Edition.