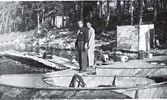 Pic of the Past
Correction
In last week's Pic of the Past, the man on the left should have been identified as Ernie Ariano.
In addition to clarifying Ernie Ariano's identity, a member of his family also shared that the photo was taken at Northumbrian Lodge in the 1950s, which Ernie Ariano built and operated up until late 1979.
Submitted Photo – From October 12, 2016 Edition.