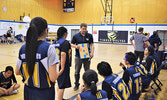 PFFNHS preparing for athletic seasons
Jesse Bonello - Staff Writer
Pelican Falls First Nations High School (PFFNHS) is gearing up for another year of sports at the school.
This year, the school's sports programs will run similar to last year, while providing students with plenty of games and tournaments.
"It will look largely the same as last year in terms of the volleyball and basketball. We did have our first golf tournament with Sioux North High School in Sioux Lookout this past week. There's an upcoming volleyball tournament in Kenora that the junior and senior boys are going to next week," said Dylan Harp, First Nations Student Success Program Coordinator.
Last year, both the junior boys and girls volleyball teams had successful seasons. The junior boys volleyball team, who was just two years removed from a season that saw them win one set all year, earned second place at the Northwestern Ontario Secondary Schools Athletic Association (NorWOSSA) 'A' Championship. They also won another silver medal at the Dryden High School Junior Boys Volleyball Tournament last year.
Harp shared that the team is already off to a successful start this year.
"The junior boys volleyball team are off to a great start. We had an exhibition versus Sioux North, which is now a double-A school so we don't see them in regular league play, and they won that. They also won against Atikokan in their first season game, so they're off to a great start. They won their exhibition and won their first game, and they're looking really good so far," he said.
Last year, both the boys and girls hockey teams competed against teams in Sioux Lookout, and that's the plan for this year as well. The school will also be offering junior and senior basketball.
PFFNHS had full court sports teams last year and, this year, the school is expecting the same.
"Sports are very popular at Pelican… It terms of general interest, it's remained consistent with previous years, which is awesome," said Harp.
This year PFFNHS will also be unveiling their finished baseball field. The school received a $150,000 grant from the Jays Care Foundation, through their Field of Dreams grant program, in the summer of 2016. The field was completed last year but, due to unforeseen weather and flooding on the field, the school was unable to host a scheduled tournament to reveal the completed field. This year, the school is hosting a baseball tournament at the beginning of October to celebrate the field with representatives from the Jays Care Foundation.
"There will be an opening ceremony of sorts followed by a bit of a tournament between DFC (Dennis Franklin Cromarty High School) students and Pelican, along with representatives from the Jays Care Foundation as well… We're praying for good weather and it's looking good right now, so that is scheduled for October 1," said Harp.