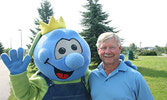 Petition to induct the late Harvey Friesen into Canada's Aviation Hall of Fame takes off
Tim Brody -
Editor
The Air Transport Association of Canada (ATAC) has started a petition on change.org, for the induction of the late Harvey Friesen to Canada's Aviation Hall of Fame (CAHF).
The petition explains, "In 2016, the former President and CEO of Bearskin Airlines, the late Harvey Friesen, was nominated by his peers for induction into Canada's Aviation Hall of Fame. While his nomination was not successful, it was tabled by the nominating committee for future consideration.
"Harvey Friesen passed away in 2014, and as full and rich as his life was, it can best be summed up by two words: aviation and altruism. His remarkable legacy as an aviator, business leader and philanthropist stems from having married those two great passions of his to touch and improve the lives of untold thousands across Canada and in particular in communities in Northern Ontario and Manitoba.
"With the Hall of Fame about to begin its annual review of worthy candidates, we are writing to reiterate our support of Mr. Friesen's nomination and urge its consideration for posthumous induction."
Friesen, a Sioux Lookout resident, built Bearskin Airlines, a small air charter operator serving remote First Nation communities in Northwestern Ontario, into one of the most successful regional carriers in Canada.
"As president and CEO of Bearskin Airlines from 1977 to 2011, he did not just help connect communities and families across the North and with the rest of Canada, but he opened new markets and created new job opportunities for thousands of Canadians," the petition stated.
"Harvey Friesen would no doubt say that it was his great fortune to be a pilot and to grow an airline that would serve his beloved North, but he would likely also say that he was blessed to be able to parlay that good fortune to help others.
"His vision for Bearskin Airlines extended beyond its role as a good and reliable mover of people and goods, it involved also being a good and reliable corporate citizen. Not only was he personally heavily invested in the good works and activities of local service organizations, but he encouraged his employees to do the same in each of the communities they served," the petition also stated.
The petition concludes, "Given its vast and rugged territory and its often-harsh climate, important chapters of Canada's history were, and will continue to be written by extraordinary aviators. Rightly, their accomplishments and contributions to aviation and to Canada have been recorded and given pride of place by the Canadian Aviation Hall of Fame.
"However diverse their personal and professional histories, or how different their accomplishments, these extraordinary aviators shared two things: a bold vision and the desire to make a difference. Harvey Friesen was cut from that same cloth. He deserves to take his place among the pioneers and the heroes and the builders of Canada's aviation system."
The petition was submitted by: Eric Edmondson, Pivot Airlines, ATAC Chairman, Bruce MacDougall, Paterson MacDougall, LLP, and Massimo Bergamini, Former President and CEO National Airlines Council of Canada (NACC).
Remembered as an entrepreneur, businessman, philanthropist, and community builder, Friesen passed away at the age of 65.
Friesen was a recipient, along with his bother Cliff, of the Jim Glass Humanitarian Award.
He was also a founding member of the Sioux Lookout Meno Ya Win Health Centre Foundation and was instrumental in raising the local share of the $140 million hospital.
Through his business, Friesen actively organized 15 Annual Bearskin Airlines Charity Golf events in support of the foundation's CT Scanner Campaign and the new hospital project.
Upon completion of the new facility, Friesen focused his efforts on improving mammography services for the women in our communities.
In 2012 Friesen was presented a Diamond Jubilee medal for his enormous impact in the community of Sioux Lookout.
Friesen also served as President of the Sioux Lookout Chamber of Commerce, held numerous roles on the Sioux Lookout Minor Hockey League and was a major sponsor of the Sioux Lookout Blueberry Festival.
Air Transport Association of Canada President and CEO John McKenna shared, "Five years ago, in 2016, I and another signatory submitted Harvey's candidacy for consideration by the selection committee… He wasn't selected and I couldn't understand why. The file stays active for five years. Since then, I've seen other people get nominated, very worthy, but no more so than Harvey."
He explained a synopsis of how many people signed the petition will be included as part of the candidacy submission to the Canadian Aviation Hall of Fame selection committee.
"I and others did not want his candidacy to be forgotten. That's why we did this," McKenna said of ATAC starting the petition.
He said the submission will revitalize Friesen's candidacy for another five years. "We're just hoping it won't take five years, this time,"
Nominations to Canada's Aviation Hall of Fame are open until May 31.
The petition will be available to sign until the end of April.
Anna Friesen said she is aware of the petition to induct her late husband into Canada's Aviation Hall of Fame stating, "I think Harvey would appreciate the recognition."
She said she was not surprised the petition has taken off, "He did a lot for the north and that's where he started. I mean really, he was a bush pilot to begin with… and stayed in the area… That was just the kind of person he was. He liked to give back."
As of noon on March 22, the petition had 1588 signatures.
People can sign the petition at https://bit.ly/3sdrPqo.