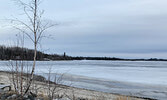 Pelican Lake setting new record low water level for this time of year
Reeti Meenakshi Rohilla -
Staff Writer
According to Lake of the Woods Control Board (LWCB), Pelican Lake is currently setting a new record low water level for this time of year.
LWCB Secretariat and Acting Executive Engineer Andrew Liddiard shared, "Typically, water levels are at their lowest at the end of winter. As snow melts, it is usual to see water levels rise. This year, however, there has been no noticeable level changes with the snowmelt thus far. The region has been very dry for the last year and we expect the soil will quickly absorb much of the melted snow. Most years, spring rainfall is the major driver for refilling lakes, but it is too early to say how much rain will fall this spring."
Liddiard shared that LWCB hopes the lake levels begin to rise soon, or at the least, not decline any further. Low water levels can expose intake lines and make boat access challenging or impossible in some locations, Liddiard explained. Low levels also reduce the available areas for fish spawning. Liddiard mentioned that LWCB usually does not issue public warnings, but will provide cautionary information on their weekly updated Noticeboard, that can be viewed at http://www.lwcb.ca/noticeboard.html.
"Contrary to popular belief, the melting of lake ice does not change the lake level. Ice is simply solid water and is accounted for on the level readings as if it was liquid water. Any ice that is on the shorelines would add to the lake water once it melts, but that contribution is minimal compared to the entire lake," Liddiard shared.
LWCB's website states that it is a board which regulates the water levels of Lake of the Woods and Lac Seul, and the flows in the Winnipeg and English Rivers downstream of these lakes to their junction, for the long-term benefit of all users and interests. Liddiard mentioned that LWCB gets most of its data from Water Survey of Canada stations, and Pelican Lake is the only lake in the area of Sioux Lookout with a level gauge.
"Much of the Winnipeg River Drainage Basin has been abnormally dry or in moderate drought since April 2020, and water levels have been low since last summer. The LWCB has been conserving water to the extent possible on both Lac Seul and Lake of the Woods. We were able to provide enough flow in the English and Winnipeg Rivers to meet the winter hydro-electric demand without the lake levels getting lower than in a normal year," shared Liddiard.
Liddiard explained that over the last few weeks, LWCB has reduced outflows to help begin refilling the lakes for summer. "The main driver for the refill is spring rainfall and it is still too early to know how much rain the region can expect. For now, the Board is continuing to conserve water in the lakes while providing flow in the English and Winnipeg Rivers in advance of spawning," Liddiard concluded.