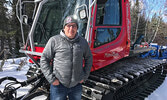 Pat Davis recognized as OPTA Volunteer of the Year
Jesse Bonello - Staff Writer
The Ojibway Power Toboggan Association (OPTA), a volunteer organization that maintains snowmobile trails in the Sioux Lookout area, recently recognized Pat Davis as their Volunteer of the Year for the 2018-19 season.
"It boiled down to the fact that we have 10 to 15 volunteers throughout the year, and he's put in the most hours with the club," shared OPTA President Les Cosco.
"I think he's at close to 350 unpaid volunteer hours as a groomer coordinator, operator, and also doing maintenance and repairs… We have six to eight groomer operators, so he coordinates all their time on the groomers and when they go out. He also coordinates what trails they go on because we have about four or five different trails. He was there basically every day last winter," he added.
Pat Davis has been the groomer coordinator for approximately one year, and is currently serving on the club's board of directors. When asked about the recognition, Davis shared that he was surprised when he heard the news.
"I was surprised to be recognized for that. I never did it with the intention of being recognized for putting in hours. I just did it for something to do more than anything. I wanted to give back to the community and help out with our local club," he said.
Through a nomination from the OPTA, Andrea McAvan, Michael Starratt, and Cameron Starratt were recognized as the Ontario Federation of Snowmobile Clubs (OFSC) Family of the Year last year, and the OPTA is hoping Davis will be recognized by the OFSC this year. The OPTA shared that they put Davis's name forward for the OFSC Volunteer of the Year Award as well.
"Our club has nominated Pat for the OFSC Volunteer of the Year. I'm not sure when that announcement comes out, probably sometime this summer," said Cosco.
"I never thought that my name would be put forward for something of that big of recognition. It's quite an honour and quite humbling to be recognized for something like that," said Davis.
When asked about the 2018-19 season, both Davis and Cosco shared that it was a successful year all around.
"It was a very successful season. We had excellent conditions, excellent trails, and we had excellent volunteers. We had a lot of volunteers out this year, and without them we would not have had a successful season," said Cosco.
"I thought the season was quite successful. We overcame a lot of challenges with our equipment and what not. We still managed to put a good product down for our trails. We had our usual events that we have every year that went off quite successfully. We've done a lot of improvements around the clubhouse as far as the grounds… We've also been able to recruit some new executive members and new operators for the trail groomer, which is quite nice to see new people from town getting involved with the club," shared Davis.
More information about the Ojibway Power Toboggan Association can be found on their Facebook page @optasiouxlookout or their website www.opta.ca.