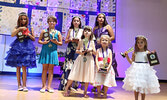 Pageant and talent show
Eight children participated in the Miss & Mr. Blueberry Pageant and Talent Show, which took place at Sacred Heart School on August 10.
Participants showed off their creative talents through song, dance, and the telling of jokes, later showing off their keen fashion sense by sporting formalwear for the judges and members of their family in attendance.
Each participant won a prize.
Participants from left: Peyton Markewich, Sarah Ward, Hope Cecchetto, Novalea Cecchetto, Aliya Johnup-Kamenawatamin, Evanleigh Cecchetto, and Melenah Rousseau. Not pictured is Archer Kakegamic.