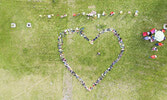 Outpouring of community support on display at Memorial in Sioux Lookout
Tim Brody -
Editor
When news emerged of the finding of 215 children's remains on the grounds of the former Kamloops Indian Residential School in British Columbia, action was taken in Sioux Lookout to honour and pay tribute to these children.
On May 29, in a social media post, The Municipality of Sioux Lookout shared that Sioux Lookout Mayor Doug Lawrance and Sioux Lookout resident, Lac Seul Band Member, Elder and Indian Residential School (IRS) survivor Garnet Angeconeb placed a wreath that evening at the corner of Wellington Street and Government Row, on behalf of the Municipal Truth and Reconciliation Committee.
"On behalf of the Municipality of Sioux Lookout and the Sioux Lookout Municipal Committee on Truth and Reconciliation Committee, we place this wreath to pay tribute to and honour all those who are impacted by the residential school legacy," the post stated.
"I think it was important for the community here to share in the grief of what's happened out in Kamloops B.C. because what's happened out there affects not just the survivors of the residential schools, it also impacts on us as a country, us as acknowledging our shared history as Canada, and so a gesture of setting up a memorial paying tribute to the 215 children's remains, that we send a message that our thoughts and prayers are with those directly affected," Garnet Angeconeb told The Bulletin.
"I know that this news has hit a lot of people right across the country, both Indigenous and non-Indigenous. It was important for the community here to also acknowledge what's happening, and so, I thought it was appropriate that the community as well as the region reach out by setting up a memorial to acknowledge this dark chapter of our country's history," he added.
What began with that single wreath has blossomed into an expansive tribute, including orange shirts, flowers, stuffed animals and more than 200 pairs of shoes.
Sioux Lookout resident, Elder and Indian Residential School (IRS) survivor Darlene Angeconeb, and other volunteers, have been tending to the memorial and speaking with visitors.
"I spoke with my Equay-wuk board member, Dorothy Ross, who agreed to help in attending to the memorial and helped me to set up a display of orange t-shirts (shirts leftover from Orange Shirt Day) on Saturday, May 29. At first, there were some flowers, stuffed animals and three small pair of shoes.
"When people found out about shoes being displayed at other memorials in other towns and cities, many began doing the same for this memorial spot. Some added shoes, flowers, stuffed animals or toys and other mementos. By Sunday, all the orange t-shirts (leftover from the Orange Shirt Day Walk) were given out and there was a build-up of so many shoes that it was decided (by Dorothy and Garnet) that they should be arranged into the shape of a heart. We were able to collect 215 shoes (forming the heart) and people continue to bring shoes and toys. So far, we have collected 215 shoes, plus an additional 60 pair of shoes," Angeconeb explained.
"The display is dismantled at the end of each day, the shoes/animals are bagged and stored. After this week (June 11), we are considering donating the shoes and stuffed animals to other community agencies who might need them," Angeconeb said.
"The display is taken care of by volunteers (Dorothy Ross, Marion Kenny, Leona Cheesequay, Harriet Visitor), many of whom are Indian Residential School survivors, and others who are affected (Intergenerational) by Indian Residential Schools. Other IRS survivors come to sit with us in the evening. We try to be at the memorial site from 9:30 a.m. to 8 p.m.
"People come throughout the day to view the display, to say a prayer or just to talk. Many are very emotionally affected by what happened and we hope this offers a safe space for people to mourn the 215 children found at Kamloops IRS," Angeconeb shared.
"In terms of education, we find there are many who have learned, or have just learned about Indian Residential Schools and we hope we have helped to raise awareness of Indian Residential Schools and the effects/legacy of the schools. We have been there to answer any questions to the best of our abilities.
"We thank traditional spiritual persons, Elders who come to sing songs, drum or to pray and smudge to honour the children.
"There is much community support for the memorial site. Some offer coffee, tea, water, food or snacks. One agency donated some orange t-shirts and five cases of water. Cash donations have been accepted throughout the week ($651.70) and the money will eventually be sent to the Tk'emlúps te Secwépemc First Nation to bring their children home," she informed.
A survivor of Pelican Falls Indian Residential School, Angeconeb commented, "We are aware that this week has been hard for IRS survivors. It has caused reopening of traumas, triggers and has brought up past memories. If anyone needs to talk, we include the following numbers: IRSSS (Indian Residential School Survivors Society) help line 1-800-721-0066, the National Crisis Line 1-866-925-4419 and the NAN Hope line 1-844-626-4673.
"The show of public support in the form of orange shirts worn by people, hung in windows and doors shows me that people are in support of, and mourning with, the families of Tk'emlúps te Secwépemc First Nation."
"This is the beginning of the searches that will be taking place at other Indian Residential Schools across Canada," she said.
Greg Rickford, Ontario Minister of Indigenous Affairs, issued the following statement last week, "Our government remains committed to the calls to action in the Truth and Reconciliation Commission and we support the further investigation of former residential school grounds in Ontario. We will work in partnership with the Federal Government and Indigenous communities to move this important work forward as we aim to support the identification, commemoration and maintenance of residential school burial grounds."