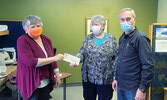 Out of the Cold receives donation from Ontario Realtors Care Foundation
Mike Lawrence -
Staff Writer
The Sioux Lookout Out of the Cold (OTC) shelter was the recipient of a cheque for $2,336.34 thanks to the generosity of the Ontario Realtors Care Foundation (OCRF). The foundation has raised and granted more than $7 million for shelter-based organizations throughout Ontario over the last 40 years. The funds are raised through the donations of realtors across the province.
The Ontario Realtors Care Foundation website describes it's goals as "to contribute to our members' communities by making a difference in the lives of people, where they live and conduct business. The Ontario Realtors Care Foundation is the legacy of all Ontario realtors. They have the power to make a difference in someone's life. The work of the Ontario Realtors Care Foundation is made possible through the generous support of realtors and local Real Estate Boards and Associations from across Ontario." The website goes on to state "Each year (the ORCF) helps families in need of emergency and permanent housing through their work with organizations such as Habitat for Humanity, Shelters (Cambridge Shelter, A Place called Home, Out of the Cold, Unity Project), Community Living and many others."
On hand to make the cheque donation were Pat Abela and Nate Hochstetler, Brokers at Sioux Mountain Realty, who were asked by the ORCF to pass the donation on to the shelter.
Accepting on behalf of the Out of the Cold shelter was OTC Executive Director Susan Barclay.
As Abela explained, "They take two dollars a month from all the realtors in Ontario. I don't know how they decide, but a couple of years ago it came back to Sioux Lookout as well, so it's all good. All realtors in Ontario donate to Ontario RCF, so it felt really good when we knew some of it came back."
Barclay expressed the importance of donations like this especially in these trying times, stating "The shelter runs on a grant that comes through the provincial government, and we are really only funded to do emergency shelter. But we do provide a lot more services than that, so donations from other organizations and community members go a long way towards keeping our doors open 24/7. It's been very difficult over COVID.
"Our expenses have increased, and our funder has definitely recognized that, and we have had increases as a result, but it's still been really a stretch to make everything work. We are using disposable dishes now and are doing a much higher degree of cleaning and sanitation, and of course with staffing, because of the space that we are in we really need to have additional staff in the space. So, we really appreciate donations from the community whether they are monetary or whether they are food donations."
Barclay continued, "It's an annual thing that they do. This year they got ahold of me and asked us to do an application, as they wanted to give away some money in Sioux Lookout. It's a grant, but there were no strings on it, it's just for us to do what we need to do to keep going."