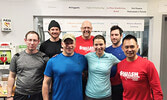 Out and About
Sioux Lookout Squash Club
Another strong finish for the Sioux Lookout Squash Club in Fort Frances 32nd Annual Squash Tournament on January 4-6, 2019. Eight squash members from Sioux Lookout attended; Gerson Agustin, Adam Clark, Rob Lawrance, Randy Wilson, Adreas Asmus, Spencer Pearce, Amy Shepherdson and David Heinrichs.
In the Mens A Open, Adam Clark finished in 3rd place; Mens A Division, Spencer Pearce finished in 1st place, Gerson Agustin in 2nd place and Rob Lawrance in 3rd place.
In the Mens C Division, Andreas Asmus finished in 2nd place and in the Womens B Division, Amy Shepherdson cruised into the round robin format with a 4-0 record capturing the championship in her first tournament appearance. Also, Randy Wilson and David Heinrichs played exceptionally well in their respective divisions.
The next event for the Sioux Lookout Squash Club will be in Thunder Bay on March 22-24, 2019.
Submitted by: Gerson Agustin