Organizations share safety messages with community members during Family Safety Night
Tim Brody - Editor
Family Safety Night took place on the evening of August 18 at the Recreation Centre. The evening was an opportunity for the community to come out and take in safety messages from local first responders, as well as social service agencies and other groups with safety messages to share.
The event was put on by the Sioux Lookout Fire Service in partnership with the Sioux Lookout OPP, Northwestern Health Unit, Nishnawbe-Gamik Friendship Centre, and Sunset Women's Aboriginal Circle.
"It was a great event. Glad to see all the people from Sioux Lookout coming out there," said Sioux Lookout Fire Chief Bob Popovic, who estimated more than 200 people attended.
"It was great to have all the organizations come out and promote safety," he added.
One of those organizations was FIREFLY.
FIREFLY Counsellor Michaela Gilhoolay shared, "It's so wonderful that we have the opportunity to be here tonight. Being proactive is so important and making sure that parents are aware of the services around them is crucial. Family support is really what we're going for. We want to make sure that parents and children know that we're here and that we're welcoming and that our intake services have actually changed quite a bit as well. We don't have the same long wait list that we used to… It's quicker, it's easier, and it's much more supportive."
Susan Barclay, Sioux Lookout Healthy Community Task Force member, said, "It's important for all of the organizations in the community to be able to put their information out there so people know there are always safe choices and people working on those safe choices."
Laura Duguay, First Step Women's Shelter Transitional Housing Support Worker, said she felt turnout for the event was good, adding First Step Women's Shelter was grateful for the opportunity to be able to share about their services.
Ashely Edwards, Nishnawbe-Gamik Friendship Centre Program Manager, said, "It's been a great evening… Us at the Friendship Centre, we really wanted to focus on the safety of children, outdoor safety, family safety. It's really great to be here and connect. This is amazing. We're so glad to be here."
Sioux Lookout OPP Community Mobilization and Safety Officer, Constable Andrea Degagne, said of the evening, "Nice turnout. Good to know that the families are looking at sources for safety information and how they can stay safe in our community."
"The OPP provided two separate displays. We had a police cruiser frontline vehicle out in the parking area, and we were showing off what is in a police vehicle… I think that was a unique opportunity. Inside we had information that our summer students have been working on developing for us, so information about who's who here in the detachment, the department structure and some information on how Sioux Lookout OPP is working and some of our programs."
Commenting on Sioux Lookout Fire Service's messaging at the event, Popovic shared, "We were trying to promote fire safety, such as making sure your smoke alarm and CO (carbon monoxide) alarm are up to date and working. That you have a practiced and working home escape plan, as well as other safety tips such as cleaning the lint out of your dryer.
"We also had one of the pumpers there so kids could take a look at it and see what equipment we had on board, including showing off our Jaws of Life equipment. We also had the Kenora District Mutual Aid Fire Prevention Trailer. Inside that trailer was a blowup house that is used to promote fire safety."
Popovic spent the evening cooking hamburgers, hotdogs and smokies, which he said was a great way to engage with community members.
Popovic said organizers wanted to make the event as assessable as possible, which is why admission was free, as was the BBQ.
The Sioux Lookout Healthy Community Task Force provided funding for the BBQ, with food and drinks being purchased from Fresh Market Foods, who donated above and beyond what was paid for.
Door prizes were provided by organizations in attendance. People were able to get tickets for the door prizes by visiting each organization's booth and got to choose which door prizes they wanted to be entered for.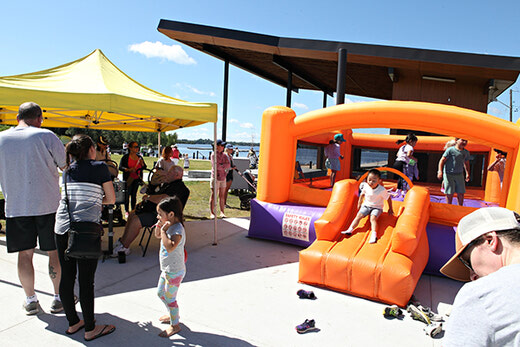 Tuesday, August 23, 2022
The Sioux Lookout Lions Club hosted a Lions "Twonie" Family Fun Day on August 1 at the Town Beach during this year's Blueberry Festival...