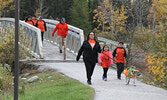 Orange Shirt Day Commemorative Walk planned for Sept. 29
Mike Lawrence -
Staff Writer
Wednesday, September 30 is Orange Shirt Day.
According to information on the website www.orangeshirtday.org, September 30 was initially chosen because it was the time of year that children would be removed from their homes and sent to residential schools. The symbolism of the orange shirt arose from the story of Phyllis (Jack) Webstad, a residential school survivor. Webstad relayed her story of how, on her first day at the St. Josephs's Mission Residential School in Williams Lake, British Columbia she had her new orange shirt (a gift from her grandmother) taken away from her. She was just six years old at the time.
This year's Orange Shirt Day will be somewhat different than previous years in that just this year the Government of Canada named September 30th the National Day for Truth and Reconciliation.
Local events to mark the day include an Orange Shirt Day Commemorative Walk sponsored by Equay-wuk (Women's Group) on September 29. The event, held to honour Indian Residential School Survivors and Intergenerationals, will start at the Travel Information Centre at 9:45 am. with prayers to begin at 10:00 a.m. Participants will then walk from the Frog Rapids Bridge to the Travel Information Centre. Rides to the bridge will be provided. Participants are encouraged to bring copies of photographs of loved ones, stories, and poems or something of significance. Snacks, coffee and tea will also be provided. Equay-wuk Executive Director Darlene Angeconeb, who is organizing the walk, added "All are welcome to come and join us for the Orange Shirt Day walk…everyone is welcome!"
While the National Day for Truth and Reconciliation has been designated a federal holiday for all federally regulated workplaces, the provincial government has declined to follow suit. Provincial NDP Leader Andrea Howarth, Leader of the Official Opposition, and Kiiwetinoong MPP Sol Mamakwa, Ontario NDP Critic for Indigenous and Treaty Relations, released the following joint statement on Sept. 9: "The National Day for Truth and Reconciliation will be a stat holiday in Ontario when the NDP forms government. Sept. 30 will be held as a solemn and significant day for reflection, for education and, most importantly, a day for concrete commitments and action towards equity and justice for Indigenous people. Declaring Sept. 30 a National Day for Truth and Reconciliation is one of the 94 calls to action from the Truth and Reconciliation Commission." The statement continues "For all Ontarians, making Sept. 30 a stat holiday is a critical move forward in the difficult work that needs to be done to revive reconciliation."