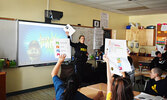 OPP wrap up in-class KIDS program
Jesse Bonello - Staff Writer
Sacred Heart School and Sioux Mountain Public School classrooms recently wrapped up their Ontario Provincial Police (OPP) KIDS (Knowledge, Issues, Decisions, Supports) Program.
The in-class program brings Sioux Lookout OPP officers face-to-face with grade six students who learn the importance of making the right decisions as they begin to grow older.
"We cover topics such as youth and the law, peer to peer relationships, drug awareness, and online and social media awareness. Each topic is accompanied by videos to show how these lessons can be related to the students and situations they may face in their lives," shared Andrea DeGagne, Sioux Lookout OPP Community Safety and Mobilization Officer.
Students used workbooks during the in-class sessions which covered various exercises and scenarios to help them feel good about themselves, be aware of the laws and values of society, create a positive impression, make good choices, know the consequences of their actions, understand peer pressure, stand up for themselves, and be a good role model.
Students closed out the OPP KIDS programming by playing a fun jeopardy-style game on their smart boards, which tested their knowledge of everything they learned throughout the program. They then received certificates as proof of completing the program.
When asked about their experience participating in the program, students shared that they enjoyed it.
"It was fun. It was cool having a police officer come right into our classroom," said grade six Sacred Heart School student Evan Burch.
"I really enjoyed it, especially the jeopardy game at the very end," added Katie Duewel, another grade six student from Sacred Heart School.
For more information on this, and other OPP programs, people can call the Sioux Lookout detachment at 737-2020.