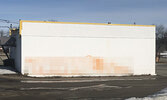 OPP seeking public's help as they investigate graffiti tagging incidents
Tim Brody - Editor
Sioux Lookout OPP are investigating a string of graffiti tagging incidents in the community.
According to police, public and private buildings as well as infrastructure in the downtown area, Third Avenue North, and Fifth Avenue North, were vandalized with black and/or orange spray paint over a three day period.
Police are looking to speak with a person they say was wearing a red hoodie and black pants who was in the downtown area around 10:00 pm on March 24.
Police are asking anyone with information about these occurrences to contact the Sioux Lookout Detachment at 807-737-2020 or 1-888-310-1122. People can provide anonymous tips by calling Crime Stoppers at 1-800-222-8477 (TIPS), where they may be eligible to receive a cash reward of up to $2,000.