OPP Report
Sioux Lookout OPP seek public assistance to prevent thefts from vehicles
Members from the Sioux Lookout Ontario Provincial Police (OPP) are requesting assistance from the public to prevent crimes of opportunity by securing their vehicles and keeping valuables out of sight.
Sioux Lookout OPP officers have received recent reports of vehicles being rummaged throughout the municipality . There is a notable increase in these activities in areas south of town between Fanning Avenue to Aspen Drive, and locations within the western portion of town, between Front Street and Prince Street.
Anyone with information about these incidents is requested to contact the Sioux Lookout Detachment at 807-737-2020 or non-emergency line, at 1-888-310-1122. Any video or images of events in progress greatly assist police to identify criminals and hold them accountable for their actions.
If you have been a victim and haven't reported it, the OPP would like to know. Officers will continue to conduct patrols throughout the Municipality to prevent property crime, with a focus on areas recently being targeted. Without the proper information, high-crime areas may not get the attention required.
Motorists are also requested to take proper precautions to prevent victimization. The "Lock It or Lose It" program offers a short checklist of safety precautions that motorists can follow to protect their vehicles and valuables from theft. These include:
Make a habit of rolling up your windows, locking the doors and pocketing the key when you leave your vehicle.

Never leave a running vehicle unattended.

Don't leave keys in your vehicle

Park your vehicle in a well-lit area with good sight lines.

Never leave valuable objects or packages in full view. Put them in the trunk.

For further information on the Lock It or Lose It program, or for other crime prevention tips, please visit our website at www.opp.ca.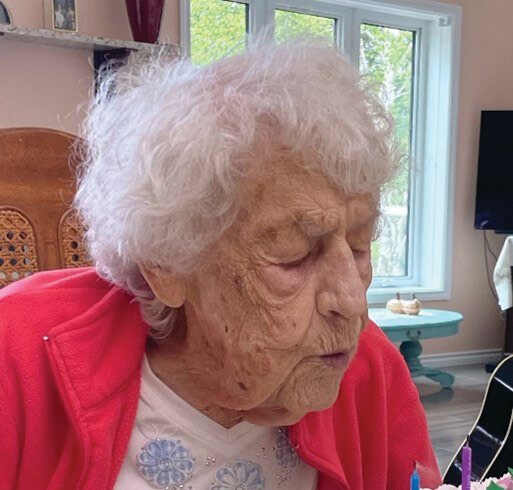 Thursday, November 2, 2023
Sylvia passed away peacefully at the age of 96. She was a lifelong resident of Sioux Lookout and was born in the family home on Queen St...