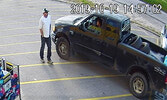 OPP Report:
Police request public assistance identifying a theft suspect in Sioux Lookout
Ontario Provincial Police
Members of the Sioux Lookout Detachment of the Ontario Provincial Police (OPP) are investigating a report from October 25, 2019, that someone had been making unauthorized purchases at multiple local businesses with a bank card that was misplaced by the owner.
Video footage was obtained from local businesses which shows a male suspect leaving a vehicle with a female driver, and is shown to make multiple purchases at three local businesses using the tap function between the hours of 4:05 pm through 4:35 pm on October 10, 2019. Approximate value of the unauthorized purchases total $136.41.
The suspect is described as a white male, approximately 30 years old, short dark hair and wearing a green/white baseball cap, sunglasses, a white long-sleeved shirt, blue jeans and running shoes. The suspect vehicle was driven by a white female approximately 30 years old with long dark hair. The vehicle was a black Ford F-150, early 2000's model, 2 door with a 5 foot box and looked worn down.
The OPP is requesting anyone with information about this incident to call Sioux Lookout Detachment at 807-737-2020 or 1-888-310-1122. Should you wish to remain anonymous, you may call Crime Stoppers at 1-800-222-8477 (TIPS), where you may be eligible to receive a cash reward of up to $2,000.