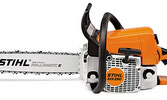 OPP Report:
OPP seeking help locating stolen chainsaw
Ontario Provincial Police
Members of the Pickle Lake Ontario Provincial Police (OPP) are requesting assistance from the public to solve a theft.
Between 4:00 p.m. and 4:30 p.m. on Monday, October 26, 2020, an orange and white Stihl MS 250 chainsaw was taken from a worksite around the water tower in the Township of Pickle Lake.
The OPP is requesting anyone with information about this occurrence contact the Pickle Lake Detachment at 807-928-2211 or 1-888-310-1122. Should you wish to remain anonymous, you may call Crime Stoppers at 1-800-222-8477 (TIPS), where you may be eligible to receive a cash reward of up to $2,000.
For safety and crime prevention tips, please visit our website at www.opp.ca.