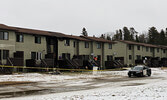 OPP release name of victim in fatal house fire
Tim Brody - Editor
Ontario Provincial Police have released the name of the victim of a fatal house fire which took place in Sioux Lookout on Nov. 19.
At approximately 6:00 a.m. on Nov.19, the Sioux Lookout detachment of the Ontario Provincial Police (OPP), Sioux Lookout Fire Department and Emergency Medical Services (EMS) responded to a house fire at an apartment on First Avenue.
Two individuals were extracted from the building and neighboring units were safely evacuated. A third individual, now identified as 37-year-old Clara Ash of Sioux Lookout, was located by firefighters, deceased.
The cause of Ash's death has been determined as smoke inhalation.
Sioux Lookout OPP are continuing to investigate the cause of the fire under the direction of the Criminal Investigations Branch (CIB) with the assistance of the Chief Coroner and Ontario Fire Marshall (OFM).
Ontario Provincial Police are asking anyone with information regarding this investigation contact them at 1-888-310-1122 or call their local police service.
People can also provide information anonymously by calling Crime Stoppers at 1-800-222-8477 or at http://www.p3tips.com/273.