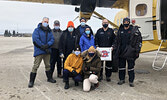 Operation Remote Immunity completes disseminating first doses to northern fly-in communities, second doses underway
Reeti Meenakshi Rohilla -
Staff Writer
Operation Remote Immunity has successfully delivered first doses of the Moderna vaccine to all 31 remote northern fly-in communities, as of March 8, and is underway disseminating the second doses to all those who choose to get vaccinated, the Government of Ontario confirmed in a March 8 news release.
Sioux Lookout is one of the four hubs for Ornge, the Canadian not-for-profit corporation air ambulance service. The vaccine is available to individuals 18 years of age or older.
This operation was co-developed in partnership with Nishnawbe Aski Nation (NAN) to ensure engagement of Indigenous leadership in how vaccines are offered to their communities. Sioux Lookout Ornge Base Manager Ron Laverty confirmed last Wednesday that dissemination of the second doses had already begun the previous week in some of those remote communities.
Operation Remote Immunity was launched on Feb. 1 to deliver the COVID-19 vaccine to First Nation Elders and Indigenous communities in remote areas, with a disproportionate risk from the virus. The provincial government said it has reached a key milestone in protecting remote and isolated Indigenous communities against COVID-19, having visited all 31 fly-in northern communities and Moosonee to offer first doses of the vaccine as part of Operation Remote Immunity, stated the news release. Operation Remote Immunity aims to complete its work by the end of April.
"A key part of our COVID-19 vaccine distribution plan is to ensure Ontario's Indigenous communities and residents are protected," said Christine Elliott, Deputy Premier and Minister of Health. "This important milestone could not have been achieved without the tremendous efforts of Indigenous leadership, community members, Ornge, and frontline health care workers coming together to stop the spread of COVID-19 in these at-risk communities."
All Ornge team members tasked with transporting COVID-19 vaccines and vaccinating 31 remote First Nations in northern Ontario received cultural sensitivity and community safety training before initiating the rollout. Laverty said, "It really helps the operation because some of the people that are working have never been to a First Nations community before and so didn't understand some of the issues and complexities around working with First Nations clients. The feedback we got was really good that it really helped them understand the culture and I think it's been helpful." All team members received complete COVID vaccination before they went into the communities.
Sandy Lake First Nation Chief Delores Kakegamic said that there has been a lot of community input. "Our vaccinations started March 1. Two weeks prior to that our health staff convened and turned our elementary-high school gym into a clinic. They walk in, they sign-up, and there's a waiting area. One-third of the gym is waiting area, the next third is where they get the vaccine and the last part of the gym is where they wait to make sure there's no reactions, and if nothing happens within 15 minutes, there's a separate entrance from the entry, that people leave out of. We've been getting very good reviews on the way our staff has prepared the clinic. I'm very glad it all turned out well."
Popular Hill First Nation Chief Howard Comber shared that the local medical staff in Popular Hill Health Authority did a good job informing people when the vaccinations will be, what could be the possible side effects and how it will be administered. "Also, Ornge came and talked to us ahead of time and wanted to know where the vaccinations will take place. The local health staff and the school administration in Popular Hill Education Authority allowed them to have it at the school. Everything was prepared and transportation was provided for the people that are committed to the vaccine, also for the community members who are unable to access the vaccination site," he added.
Comber said that the first rollout of the vaccines saw a 70 percent community response. He added that some communities have been offering "prizes and awards and all kinds of payment to get vaccinated." However, Popular Hill band council decided to not follow this trend to refrain from altering the individual decision of anyone. "People know the consequences. It was all explained to them," he added.
Sandy Lake and Popular Hill First Nations are being served through the Sioux Lookout base. Laverty said that the process of dissemination of the vaccine from Sioux Lookout starts at their base in the mornings when a team member prepares for the safe delivery of the vaccines. He shared that the vaccines are carried in Credo Cubes that maintain a temperature of minus 20 for 36 hours, "which really comes in handy." The cubes have a temperature sensor at the bottom, with a capacity to hold 100 doses per box, he added.
Sioux Lookout Ornge Task Force Team Lead Jeff Hynes, who leads the multi-disciplinary team of physicians, nursing students, medical students, other paramedics, into the communities, said, "Basically we fly into the community in the morning and we set up the vaccination clinic first thing in the morning. We thaw the vaccine, open the clinic within an hour of arriving, and then we vaccinate as many community members as we can throughout the day, and then close around 5 o'clock in the evening and fly back for the night. Then repeat it for the rest of the week."
Kakegamic said, "At first it was somewhat of a slow start. The first day was our lowest number. But the clinic started to know what they are doing, things started rolling around faster. At first, when we were trying to do a sign-up sheet, a month, two-weeks prior to the clinic, we didn't have a good number. I think we were only at 600-700 people that had signed up. But once the clinic opened, more people came in that did not sign-up, a bunch of walk-ins. It turned out fairly well. I like to think that we're doing okay in promoting people to try and get vaccinated." She added that as of last Tuesday evening, they had 1177 people vaccinated, with about 250 to go.
Hynes said, "I think as the weeks have progressed, the communities have gotten somewhat competitive with each other and we're starting to see higher and higher numbers. So, the last few weeks have definitely been a great experience." He added that he looks forward to better numbers and seeing more people take the shot. "We're getting closer to the end of it, we're kind of over the hump and looking forward to most of the communities being vaccinated."
Kakegamic said that she is looking forward to returning to some type of a normal. "I'm pretty confident with this vaccine, maybe we can breathe a little easier now and not be so afraid." She added, "I'd like to commend Ornge. They are very proficient and very helpful. They have an awesome team to send and I'd like to thank Ornge for coming to do out clinic and look forward to them coming back March 29."
Comber said that due to the high demand for vaccines, he hadn't heard anything that is planned regarding vaccinating those individuals who did not get the shot during the first rollout and may change their minds in the future. "I have confidence in the local health authority…that they will do what is right, should that question come up." Comber added, "The Council is very happy that those that wanted the opportunity to get the needle, got it and those that didn't want to, they had the right to make their choice."
The 31 fly-in communities and Moosonee involved in Operation Remote Immunity were selected because almost all of them are accessible only by air, and all are remote, having a higher risk of serious illness and challenging access to healthcare services, the provincial government shared. Adding that these communities have few healthcare facilities and resources to manage the spread of COVID-19, making the risk of the virus being brought into these communities potentially devastating.
Ornge shared in a news release that vaccination teams and partners in these efforts consist of highly trained medical professionals representing a number of organizations, including the Weeneebayko Area Health Authority (WAHA), the Sioux Lookout First Nations Health Authority (SLFNHA), the First Nations Inuit Health Branch (FNHIB), the Northern Ontario School of Medicine (NOSM), Queen's University, the University of Toronto, northern Paramedic Services, the Porcupine Health Unit, among others.
"The delivery and administration of vaccines to these communities is an outstanding example of Ontario and Indigenous leadership working together to fight this pandemic on the ground where Indigenous populations are most at risk," said Greg Rickford, Minister of Indigenous Affairs in a Government of Ontario news release. "This would not have been possible without the support of leaders and residents in these fly-in communities in promoting vaccination and helping to set up vaccinations sites, ensuring the most at-risk community members are protected."