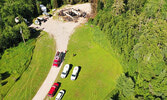 Office of the Fire Marshal investigating explosion at Alcona home
Tim Brody - Editor
The Office of the Fire Marshal (OFM) is investigating an explosion at a Goretzki Road home in Alcona, in the Municipality of Sioux Lookout which occurred just before 8:39 a.m. on July 11.
OFM reported that two people were seriously injured.
OFM dispatched an investigator, forensic fire protection engineer, fire protection specialist and a fire investigation supervisor to investigate the origin and cause of the explosion.
Sioux Lookout OPP and the Sioux Lookout Fire Department attended the scene.
"The property was extensively damaged beyond repair with the upper structure completely displaced and consumed. The remainder of the structure collapsed into the below-grade basement. A number of components from the structure were displaced 360 degrees by the explosion into the surrounding property line," OFM informed The Bulletin through an emailed statement.
"During the scene examination, the OFM investigator seized components related to the home's propane gas supply that will be further examined by our forensic fire protection engineers. The investigation continues with the Technical Standards and Safety Authority," OFM concluded.