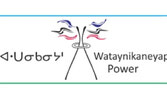 OEB approves Leave to Construct application for Wataynikaneyap Power LP
Tim Brody - Editor
Wataynikaneyap Power LP (Wataynikaneyap Power) has received the green light from the Ontario Energy Board (OEB) to construct and operate its power transmission project.
On April 2, Wataynikaneyap Power announced the OEB had approved the company's Leave to Construct (LTC) application, which was filled last June.
"The OEB's approval authorizes Wataynikaneyap Power to construct and operate the Wataynikaneyap Power Transmission Project and deliver upon our commitment to bring reliable, sustainable and clean power to our First Nations communities in Northern Ontario," said Margaret Kenequanash, CEO of Wataynikaneyap Power. "We successfully connected Pikangikum to the provincial energy grid in December 2018 and are looking forward to connecting the rest of the First Nation communities who still rely on expensive, environmentally-unfriendly diesel generators for power."
The First Nations-led power transmission project will build approximately 1800 kilometres of transmission line in Northwestern Ontario, which will connect remote First Nations communities to the Ontario power grid.
"The project will reinforce the existing transmission grid to Pickle Lake and will expand grid service north of Pickle Lake and Red Lake to ultimately connect 17 First Nations communities," a news release issued by Wataynikaneyap Power LP informed.
"A leave to construct application is an OEB requirement under Section 92 of the OEB Act, for a transmission company proposing to build an electricity transmission line in Ontario. The application outlines details of the project, including timing, design and costs.
"Wataynikaneyap Power is now focused on the next significant steps in the Project's development before construction, including Environmental Assessment approvals, choosing an Engineering, Procurement, Construction (EPC) proponent(s) for Phase 1 & 2 of the Project and finalizing financing," the company's news release further explained.
Kenora MP Bob Nault issued the following statement regarding the OEB approving Wataynikaneyap Power LP's LTC.
"In August 2017, the groundwork for this project was laid with an investment of $60 million for Wataynikaneyap Power to build a 117-kilometre grid line from Red Lake to Pikangikum. In March 2018, Watataynikaneyap Power received a historic federal investment of $1.6 billion to connect 17 First Nations to the provincial power grid.
"The project is scheduled to be accomplished in two phases: Phase 1, upgrading of the electrical system with a new line to Pickle Lake, Ontario. Phase 2, which has just been approved by the Ontario Energy Board, involves installation of 1,630 kms of transmission line which will connect 17 remote First Nations communities north of Red Lake and Pickle Lake, with community connections starting in 2021, and all communities connected by the end of 2023.
"The Wataynikaneyap Power Project is the largest and most far-reaching Indigenous-led transmission project in the history of the province. Wataynikaneyap Power, a transmission company majority owned by First Nation communities, has played a critical role in leading this project.
"The importance of this project should not be underestimated; not only is this one of the largest federal investments the Kenora riding has seen, but it also brings reliable, clean power and up to 300 high-paying jobs. These communities will be able to significantly reduce greenhouse gas emissions and offer substantial environmental benefits and cost-savings over the long term, so they can focus on building a better future."
"The Wataynikaneyap Project team continues to reach major milestones in the development process and this LTC approval is another example of our success. We are honoured to be working with our 24 First Nations partners in making this project, and access to clean, reliable energy, a reality for thousands of First Nation residents in Northern Ontario," said Barry Perry, President and CEO of Fortis Inc.
Wataynikaneyap Power is a licensed transmission company, regulated by the Ontario Energy Board, and majority-owned by a partnership of 24 First Nation communities in partnership with private investors led by Fortis Inc.