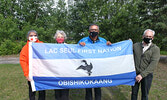 Obishikokaang flag raised in Sioux Lookout to celebrate National Indigenous Peoples Day
Tim Brody -
Editor
Sioux Lookout Mayor Doug Lawrance and Lac Seul First Nation Chief Clifford Bull raised the Obishikokaang (Lac Seul First Nation) flag at the Sioux Lookout Travel Information Centre on the morning of June 21, National Indigenous Peoples Day.
"We thank the town of Sioux Lookout for allowing us to fly our Obishikokaang flag here in the Municipality as a testament to trust and friendship and most importantly, reconciliation," Bull stated.
"The flag raising, to me, represents sharing and the coming together of two different cultures," Bull said, adding, "When we respect each other and work together, we are able to build a future together so that both our communities become even stronger. We at Lac Seul First Nation want to work collaboratively on good things together and be a good neighbour to Sioux Lookout and the surrounding areas. We believe that prosperity is for all."
Bull encouraged people to take the opportunity presented by National Indigenous Peoples Day to learn more about Indigenous culture, heritage and history. "This is a day to remember and acknowledge that Indigenous people existed in this country prior to colonization. If you are Indigenous, remember to be proud of who you are and find ways to connect with your traditional roots. We invite people from all walks of life to take some time today to educate themselves and learn more about the rich Indigenous culture and history."
Lawrance proclaimed June 21 as National Indigenous Peoples Day in the Municipality, encouraging, "All residents to celebrate together in recognition of the diversity and contributions made to the community of Sioux Lookout by Indigenous people."
He stated in his proclamation that, "National Indigenous Peoples Day provides an opportunity to acknowledge the unique achievements of First Nations, Métis and Inuit in fields as diverse as agriculture, the environment, business and the arts," adding that "Sioux Lookout is significantly enriched by the many contributions from Indigenous residents, leaders, elders and organizations, including cultural, economic, and artistic enrichment."
Lawrance recalled that on, "On June 21, 2012 a Friendship Accord was signed by the Municipality of Sioux Lookout, Lac Seul First Nation, and Slate Falls First Nation, which, in the ensuing years, was also signed by the First Nation communities of Cat Lake and Kitchenuhmaykoosib Inninuwug," adding that "The Friendship Accord exists to foster and support relationship building, partnerships, and lobbying on issues of common concern and interest"
Lawrance also noted that, "On August 3, 2016 the Sioux Lookout Council created a Municipal Truth and Reconciliation Committee, whose mandate is to provide leadership, education, and action on Municipal responses to the Truth & Reconciliation Commission of Canada's Calls to Action"
Joining Lawrance and Bull for the flag raising were Municipal Councillor Joyce Timpson and Darlene Angeconeb, Chair of the Municipal Committee on Truth and Reconciliation.