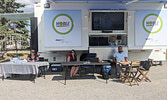 NWMO Mobile Learn More Centre informs community about Canada's plan for used nuclear fuel
Reeti Meenakshi Rohilla -
Staff Writer
The Nuclear Waste Management Organization's (NWMO) Mobile Learn More Centre visited the Sioux Lookout Travel Information Centre last week to share Canada's plan for used nuclear fuel with interested community members.
Vince Ponka, NWMO Regional Communications Manager - Northern Ontario explained that they are working to implement a safe, long-term plan to safely contain and isolate Canada's used nuclear fuel, and ensure that people are informed about the procedures and to answer any queries. They visited the Travel Information Centre on July 13 and July 14.
"We have heard that some people have concerns about this project. We are always happy to speak to people about their concerns in order to give them the answers they need to understand that this project is safe and is an excellent long-term solution for the isolation and storage of used nuclear fuel," shared Ponka. Speaking with people about the potential siting areas is an important part of this process, he added.
Canada's plan is a national, environmental infrastructure project that aims to deliver positive, lasting benefits that contribute to the long-term wellbeing of the host area and ensure safety for generations to come, shared Ponka. He added, "Canada's plan will safely contain and isolate used nuclear fuel inside a deep geological repository in a manner that protects people and the environment for generations to come."
The NWMO has been engaged in a multi-year, community-driven process that commenced in 2010, aiming to identify a site where Canada's used nuclear fuel can be safely contained and isolated, shared Ponka. He added that communities interested in learning more about hosting a deep geological repository were asked to reach out. Ponka stressed that this plan would only proceed in an area with informed and willing hosts, where the municipality, First Nation and Métis communities, and others in the area are working collaboratively to implement it.
"Ignace was one of 22 communities to enter that first stage of the process. Now, there are two areas remaining in the site selection process: Ignace, and South Bruce," shared Ponka. "There has been a great deal of geoscience and environmental work that has taken place in both siting areas, all to determine whether the geology is suitable to host a deep geological repository," he added. Ponka shared that they anticipate selecting one site in 2023.
"By the time the Mobile Learn More Centre returns to Ignace on July 28, it will have visited more that ten communities and travelled almost 1,500 kms. Speaking with the public has always been a very important part of the NWMO's work," concluded Ponka.