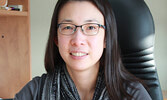 NWHU to begin offering flu vaccine in November, COVID-19 vaccination coverage rate continues to increase
Tim Brody -
Editor
The Northwestern Health Unit (NWHU) will begin to offer the flu vaccine in November. "We will inform the media and the public when people can start booking appointments. As always, the influenza vaccine will also be available at many pharmacies and from other health care providers," NWHU Medical Office of Health, Dr. Kit Young Hoon told regional media on Oct. 12.
Young Hoon also shared that vaccination coverage rates in the NWHU's catchment area continue to increase. As of Oct. 12, she shared, "Of those in our region aged 12 and older 87.5 percent have had at least one dose of the COVID-19 vaccine, while nearly 81 per cent have had two doses. We continue to offer COVID-19 vaccine appointments in many of our communities. The public can book an appointment on our website (https://www2.nwhu.on.ca)."
She added that as of Oct. 13, "Proof of vaccination, or an eligible medical exemption will be required to attend social gatherings or receptions associated with weddings and funerals in a meeting or event space. Also, a letter of instruction requiring proof of vaccination for coaches, volunteers and officials for indoor sports comes into effect on Thursday, October 14. Anyone aged 12 and older that enters a facility to coach, volunteer or to officiate will be required to show proof of vaccination or a valid medical exemption."
As of Oct. 18, NWHU was reporting four active COVID-19 cases across its catchment area.
The provincial government announced last week that as of Oct. 18, it's COVID-19 vaccination portal (https://covid-19.ontario.ca/covid-19-vaccine-booking-support#proof-of-vaccination) will be open for any vaccinated individual to download their enhanced vaccine certificate with official QR code. Individuals can also call the Provincial Vaccine Contact Centre at 1-833-943-3900 to have their enhanced vaccine certificate emailed or mailed to them.
The province shared in an Oct. 15 news release that, "People can save the electronic version of their vaccine certificate with a QR code to their phone or print a paper copy. Businesses must accept both electronic and paper versions. In addition, while the current vaccine receipt without a QR code remains valid and will continue to be accepted, the province is encouraging individuals to download their enhanced vaccine certificate with a QR code as an easier, more secure and convenient way to have their proof of vaccination verified. Ontarians will need to continue to show a piece of identification with their name and date of birth along with their proof of vaccination when visiting select businesses and organizations."
The province further announced, "In addition, businesses and organizations can now download the free Verify Ontario app from the Apple App and Google Play stores. The app has been made available in advance of October 22 to ensure businesses and organizations download the app and have sufficient time to become familiar with it. The made-in-Ontario app has been designed to help businesses by making it quicker and easier to confirm if a person is fully vaccinated against COVID-19, while protecting their privacy. The Verify Ontario app for businesses can be used without an internet connection, but like any app it will need to connect to the internet periodically to keep it up to date. The app never stores personal information and only shows the minimum amount of information necessary to confirm vaccination."