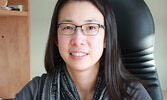 NWHU MOH urging public to be vigilant in practicing COVID-19 prevention measures
Tim Brody -
Editor
The Northwestern Health Unit's (NWHU) Medical Office of Health, Dr. Kit Young Hoon is urging the public to be vigilant in practicing COVID-19 prevention measures as school resumes and cooler weather returns.
Speaking with regional media representatives on Sept. 9, Young Hoon shared, "As the cooler weather arrives and we all spent more time indoors, it is critical that anyone who has any symptom of COVID-19 use the Ontario COVID-19 assessment tool. If you have failed the screening or the assessment tool, then you must self-isolate and get tested. This includes those who are fully vaccinated. Although the vaccines are very effective at reducing the likelihood of getting sick from COVID-19 there is still the possibility that you become infected. Those who are fully vaccinated and who get infected may show no symptoms or very mild symptoms, while those without the vaccine are more likely to become seriously ill."
She continued, "It is important that all students are screened for COVID-19 every day before school. Anyone who fails the screen should be tested for COVID-19 and cannot return to school until the results are known and symptoms have improved. If they did not get tested, they must not attend school for 10 days. This rule also applies to children attending daycare."
Over 117,000 doses of the vaccine have been given in our area. 83.5 per cent of people 12 years of age and older in the NWHU's catchment area, as of Sept. 13, have received one vaccine dose while 75 per cent of people have received two doses. This compares to the provincial percentage rate which is 84.4 per cent of people 12 years of age and older having one dose of the vaccine and 78.1 per cent of people having two doses.
People can find information about booking a COVID-19 vaccine at https://www2.nwhu.on.ca/covid-19/booking-a-covid-19-vaccine-appointment/.
Young Hoon said that vaccine clinics are being offered at local schools across the region this week.
NWHU issued a news release last week regarding the Delta variant of COVID-19 in the NWHU area.
Young Hoon told regional media, "This is not the first case of the Delta variant in our area. We have had a number of confirmed or suspected cases of the Delta variant over the past three months but expect that we will see further spread as people spend more time indoors, increase in-person interaction, resume sports and attend school. To prevent the spread of COVID-19 I urge the public to be vigilant with prevention measures and consider the risk of an activity before planning social events."
"The Delta variant is highly contagious and will spread quickly if we do not act. I urge everyone to be vigilant in practising all COVID-19 prevention measures as we see cases increase in our area," Young Hoon stated in last week's news release.
As of Sept. 13, NWHU was reporting 12 active COVID-19 cases in its catchment area.