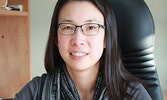 NWHU MOH urging adherence to public health measures as holidays approach
Tim Brody -
Editor
"As we see increased active case numbers and with the new Omicron variant's presence in Ontario, it is important that everyone practices all public health measures. We must not let our guards down, especially as the holidays approach and we tend to gather more often," shared Dr. Kit Young Hoon, Northwestern Heath Unit (NWHU) Medical Officer of Health, while speaking with regional media on Dec. 6.
"Our holiday safety fact sheet has been posted to our website to help the public make safer plans (https://www2.nwhu.on.ca/covid-19/preventing-covid-19/ under Choosing safer activities)," she added.
"Our COVID-19 clinics continue to fill up across the region. Mostly with children aged five to eleven and those eligible for booster doses. I highly encourage parents who want their children vaccinated to book an appointment before spots fill up. In our larger communities we have appointments available throughout the holiday break," Dr. Young Hoon advised.
"A complete COVID-19 vaccine series continues to provide very good protection against serious illness for most people. Over time, some people may be less protected such as older adults. Beginning December 13, those aged 50 and older who received their second dose at least 168 days before the appointment are able to receive a booster dose. Those individuals can get their booster dose at a pharmacy or can book into our clinics on December 13 or later," Dr. Young Hoon informed.
The health unit continues to vaccinate anyone eligible for a first, second, or booster dose of the COVID-19 vaccine. For more information or to book an appointment, people can visit www.nwhu.on.ca/covid19.
"COVID-19 vaccines remain an essential tool to help prevent and control COVID-19 and its complications. While cases are increasing in some areas of Canada, COVID-19 infection rates, hospitalizations, ICU admissions and mortality continues to be highest among those who are unvaccinated," Dr. Young Hoon said.
NWHU shared last week that Statistics Canada had released its new population estimates for public health units in Ontario.
"The previous estimates available were based on the 2011 Census and were significantly higher than the most recent census data. This means the region's COVID-19 vaccine coverage rates have been underestimated up until now," the NWHU informed.
"According to the new Statistics Canada estimates, our population has 6,492 fewer people than the estimate that was previously provided. When we use the new population estimate, our COVID-19 vaccine coverage rates increase," said Dorian Lunny, Epidemiologist at NWHU.
"We must take into consideration that some households in our area may not have completed the census earlier this year, which would cause our population estimate to be lower than it is. We do however believe the new rates to be accurate within 2-3 percent, which is still very impressive," explained Dr. Young Hoon.
As of Dec. 13, NWHU advised on its website that 142,085 total doses had been administered to residents of the NWHU catchment area.
Information on vaccination rates for the region can be found at www.nwhu.on.ca/covid19.
As of Dec. 13, the NWHU was reporting 17 active COVID-19 cases across its catchment area.
Last Friday, the Ontario government, in consultation with the Chief Medical Officer of Health, announced it is taking action to, "further encourage vaccination and help limit the spread of COVID-19 and the Omicron variant."
The province shared in a news release that, "These measures will help reduce the risk of transmission during the winter months and further encourage every eligible Ontarian to get their shot so that Ontario's hospital capacity is protected."
"As we continue to learn more about the Omicron variant, we are taking additional measures to protect our progress as we head into the winter months," Christine Elliott, Deputy Premier and Minister of Health stated. "Getting vaccinated and adhering to public health and workplace safety measures will continue to protect us and our loved ones against COVID and variants, but we won't hesitate to continue to take swift action to ensure the continued health and safety of all Ontarians."
The provincial government shared that, "Ontario's weekly cases incidence rate is below the national average, and recent investments combined with high vaccination rates have meant hospital and intensive care unit capacity remains stable. In line with Ontario's cautious approach throughout the pandemic and in light of evolving global evidence around the Omicron variant, the province is adjusting its COVID-19 response that will strengthen the province's proof of vaccination requirements and enhance public health measures. This includes the following measures:
• "Delaying the lifting of proof of vaccination requirements beyond January 17, 2022, aligned with the reopening plan that stipulated that doing so was contingent on the absence of concerning trends.
• "Effective January 4, 2022, requiring the use of the enhanced vaccine certificate with QR code and the Verify Ontario app in settings where proof of vaccination is required. The QR code can be used digitally or by printing a paper copy. Individuals can download their enhanced certificate with QR code by visiting https://covid-19.ontario.ca/book-vaccine/.
• "Strengthening the verification process for medical exemptions and clinical trial exemptions by requiring a certificate with a QR code. Organizations and businesses that are under the provincial proof-of-vaccination system will be advised to no longer accept physician notes as of January 10, 2022.
• "Effective December 20, 2021, requiring proof of vaccination for youth aged 12 to 17 years participating in organized sports at recreational facilities.
• "On the advice of the Chief Medical Officer of Health, Ontarians are strongly advised to limit their social gatherings and the number of gatherings they attend over the holiday season. Additional precautions should be taken if all individuals are not fully vaccinated or where vaccination status is unknown. Employers in all industries should make every effort to allow employees to work from home."
The full suite of measures can be found at https://news.ontario.ca/en/backgrounder/1001329/responding-to-omicron-and-protecting-our-progress