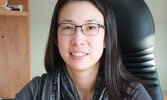 NWHU MOH provides update on changes in the fight against COVID-19
Tim Brody -
Editor
Northwestern Health Unit (NWHU) Medical Officer of Health Dr. Kit Young Hoon told regional media on Jan. 4 that she expects COVID-19 case numbers, "will increase over the next little while."
"Case numbers are increasing rapidly in many jurisdictions, this includes Northwestern Health Unit, a number of northern health units, many jurisdictions across Ontario and in parts of Manitoba.
"That increase is occurring at this time, so I am expecting that case numbers will increase over the next little while. With the added public health restrictions that have been implemented in the province, that will likely lead to a blunting of the increase, but that would not be noted for probably a couple weeks," she stated.
"PCR testing is no longer available for everyone with symptoms," Young Hoon shared, referring to updated COVID-19 testing and isolation guidelines announced by the provincial government on Dec. 30. "Publicly funded PCR testing is now available for those in high risk settings including vulnerable individuals or those with significant medical issues who are symptomatic or at risk of severe illness from COVID-19, including for the purposes of confirming a COVID-19 diagnosis to begin treatment, those who live, work, visit or are admitted into the highest risk settings, such as hospitals, long-term care homes, retirement homes and congregate living settings and other specific groups such as people who are from First Nations, Inuit or Metis communities and people travelling into those communities for work."
Young Hoon added, "This shift means that our testing numbers will not be an accurate representation of cases in our area. The more important statistics to pay attention to would include percent positivity, number of hospitalizations, and number of outbreaks in high risk settings, as this information more accurately represents the impact of the virus in our region."
As of Jan. 10, on its website, NWHU was reporting 419 active cases across its catchment area, a decrease from the 518 active cases it was reporting as of Jan. 9. NWHU's website stressed, "The confirmed cases are an underestimate of the true number of people with COVID-19 in the NWHU region, given that access to PCR testing is increasingly limited, positive rapid antigen test results are not reported to Public Health, and the likelihood that people with asymptomatic infections may not seek testing."
As of Jan. 10, NWHU was reporting a 17.71 per cent positivity rate for the period of Jan. 3 – 9, a decrease in the positivity rate from the week previous when NWHU had reporting a 26.37 per cent positivity rate for the period of Dec. 27 to Jan. 2.
NWHU reported as of Jan. 10 that seven people from its catchment area are currently hospitalized
with COVID-19.
"We will also see a shift in contact management. Positive cases in high risk settings, such as long-term care homes and retirement homes will receive full case and contact management, but other cases will be asked to identify and inform their own close contacts.
"Under this new provincial guidance, anyone with symptoms who fails the screening tool and is not eligible for testing should assume they have COVID-19 and self-isolate as recommended by the tool. The screening tool should also be used with someone who is identified as a close contact. It will provide information on whether or not you need to self-isolate and for how long.
"Self-isolation requirements have changed and can be as short as five days depending on the situation. For the general community, individuals who are vaccinated as well as children under 12, will be required to isolate for five days following the onset of symptoms. If you're 12 and older and unvaccinated or partially vaccinated, or if you are immunocompromised, the isolation period is longer at 10 days," Young Hoon informed.
"Yesterday (Jan. 3) the government of Ontario announced many new restrictions as we re-enter a modified version of Step Two of the Roadmap to Reopening. This is due to the increase in hospitalizations that are being seen across the province. We will be assisting local workplaces, businesses and organizations, as needed, to ensure they are following all of the new measures that apply to them. Some of the changes that come into effect Wednesday, January 5, include social gathering limits of five people indoors and 10 people outdoors, 50 per cent capacity for retail settings and personal care services, no indoor dining at restaurants, closure of indoor sports and recreational facilities and remote learning until at least January 17," Young Hoon stated.
"Vaccination remains our best protection against the virus," she said, adding, "Nearly 160 thousand doses of the COVID-19 vaccine have been administered in our region. We continue to offer vaccination clinics throughout the region and have large scale clinics running throughout January and February. The eligibility requirements have recently changed and effective immediately residents of long-term care homes, retirement homes and elder care lodges and older adults living in congregate settings are eligible for a fourth dose of an mRNA vaccine, if at least three months have passed since the third dose. Northwestern Health Unit has vaccination appointments available to book in to and local pharmacies and healthcare providers are also offering the vaccine. You can visit our web page at www.nwhu.on.ca/COVID-19 for more information about our vaccination clinics."