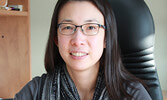 NWHU MOH in support of students' return to class
Tim Brody -
Editor
Northwestern Health Unit (NWHU) Medical Officer of Health, Dr. Kit Young Hoon is in full support of the province's decision for elementary and high school students to return to in-person learning this past Monday.
"The benefits of in-person learning far outweigh the risks at a population level. It has been shown that in-person learning can positively impact our students' health and well-being", Dr. Young Hoon shared in a Jan. 14 news release. "Although the Omicron variant is highly transmissible, the risk of serious illness and hospitalization is not high in our school-aged population", Dr. Young Hoon said.
All students and staff must complete the School Screening Tool (https://covid-19.ontario.ca/school-screening/) each day before school. "Not every symptom requires a full isolation period or isolation of family members. It is important to read the instructions carefully if you fail the screen", says Dr. Young Hoon.
NWHU shared that it will be notified by schools when there is approximately 30 per cent absenteeism in a school due to illness and, "Upon notice of high absenteeism rates, Northwestern Health Unit notifies parents/guardians and works with the school to ensure all infection prevention and control measures are in place. Parents/guardians and schools do not need to report positive test results to public health, instead they should visit www.ontario.ca/exposed for information on what to do next," the health united informed.
The health unit is encouraging parents and legal guardians of those aged 5-11 to get their children vaccinated. "In some of our communities, we have coverage rates in the 5-11 year old age group of nearly 60 per cent", said Dr. Young Hoon.
More information on screening, what to do if you have symptoms, or booking a vaccination appointment, can be found at www.nwhu.on.ca/covid19.
As of Jan. 17, NWHU was reporting 281 active COVID-19 cases across is catchment area, a drop in active case numbers from the 419 cases reported on Jan. 10.
Dr. Young Hoon cautioned, "The decline is due to the implementation of different eligibility criteria for testing, so less people now can get tested, because of that action, which occurred on December 31, the case numbers will just naturally decrease."
She said that better numbers to pay attention to, to get a sense of the COVID-19 situation in the area would be, "Percent positivity would particularly be important to pay attention to and also hospitalization rates."
As of Jan. 17, NWHU was reporting a 16.9 per cent positivity rate for the period of Jan. 10 - 16, a decrease in the positivity rate from the previous week when NWHU had reported a 17.71 per cent positivity rate for the period of Jan. 3-9. NWHU, as of Jan. 17, was reporting two people in hospital with COVID-19.
Due to the high transmissibility of the Omicron variant, Northwestern Health Unit (NWHU) is advising the public to have essential items on-hand in case they are required to self-isolate.
"Public health officials note that with the high percent positivity rates, it is likely that many households will need to self-isolate within the coming days and weeks. Items to purchase include pain relief medications like acetaminophen and ibuprofen, frozen or canned fruit and vegetables, other non-perishable food items, personal hygiene products, and cleaning supplies," NWHU shared in a Jan. 11 media release.
"The new guidelines from the Province of Ontario require anyone with symptoms to isolate for 5 days if fully vaccinated or under 12 years old, or 10 days for anyone not fully vaccinated that is aged 12 or older. All household members have to stay home while the symptomatic individual is isolating. Anyone who is unsure whether their symptoms require isolation should visit www.ontario.ca/exposed for more information," NWHU further informed.