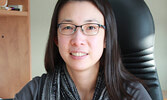 NWHU 'encouraging everyone to be vaccinated as soon as you are eligible', continuing to monitor situation in Sioux Lookout Health Hub
Tim Brody -
Editor
More than 37,000 doses of the COVID-19 vaccine have been given across the region according to the Northwestern Health Unit (NWHU).
"The eligibility for the vaccine is quite broad right now. Anyone who is classified as an essential worker, and anyone aged 40 or older can book their shot directly through the ministry booking system (https://covid-19.ontario.ca/book-vaccine/ or by calling 1-833-943-3900), shared NWHU Medical Officer of Health Dr. Kit Young Hoon.
As of 8:00 a.m. on Tuesday, May 18, individuals aged 18 and over in 2021 across Ontario became eligible to book a COVID-19 vaccine appointment. Individuals who are 17 years old and are turning 18 in 2021 will also be eligible to book their COVID-19 vaccination appointment only for the Pfizer COVID-19 vaccine.
"Our overall population vaccination rate affects all of us. The province is reviewing vaccination numbers and coverage as a metric to guide lifting public health restrictions and I urge anyone who is eligible to book an appointment. At the beginning of next month, those aged 12 to 17 will be eligible to receive the Pfizer vaccine. We are awaiting more information from the province on how these youth can book appointments and will be working closely with our local school boards on this initiative," Dr. Young Hoon said, adding that NWHU will communicate that information widely once it becomes known.
Speaking to regional media on May 14, Dr. Young Hoon said of vaccination rates in the NWHU's catchment area, "Our coverage rates are on par with the province, so we're at approximately 48-50 per cent of all the eligible population in our catchment area. So I think we are where we want to be and we are progressing well towards the target of anyone who wants a vaccine to be vaccinated by end of June."
She added, "With respect to the overall coverage rate, the provincial target has always been 75 per cent, however it would be much more protective to have a coverage rate of 80 per cent or even 90 per cent… That is what we are encouraging the population is that everyone gets vaccinated. This affects all of us. The more people that are vaccinated, the less the virus will spread and the easier it will be to get out of the pandemic and get out of public health restrictions. Overall, we are encouraging everyone to be vaccinated as soon as you are eligible."
Dr. Young Hoon said, "New guidelines allow those who are fully vaccinated with two doses to not have to self-isolate if they are a high risk close, contact of a case of COVID-19. By avoiding a 14-day isolation period, these fully vaccinated people will be able to continue doing their daily activities like attending school or work. This will be most useful in the fall when most people should have a chance to get their second dose."
Further information on booking vaccinations, eligibility and NWHU-led COVID-19 clinics can be found at https://www.nwhu.on.ca/covid19/Pages/booking-COVID19-vaccine-appointment.aspx.
As of May 17, NWHU was reporting 30 active COVID-19 cases in its catchment area with 18 active cases in the Sioux Lookout Health Hub, seven in the Dryden Health Hub, three in the Kenora Health Hub and two in the Fort Frances Health Hub.
NWHU defines the Sioux Lookout Health Hub as including: Sioux Lookout, Pickle Lake, Hudson, Bearskin Lake, Cat Lake 63, Deer Lake, Kee-Way-Win, Lac Seul, Neskantaga, MacDowell Lake, Muskrat Dam Lake, North Spirit Lake, Osnaburgh, Pikangikum, Poplar Hill, Sachigo Lake, Sandy Lake, Slate Falls, and Weagamow Lake.
Asked about the situation in the Sioux Lookout Health Hub, Dr. Young Hoon explained on May 14, "We're continuing to monitor the situation in the Sioux Lookout Health Hub. There are a number of communities affected. A number of First Nation communities affected and then also the municipality itself. If there are cases in a First Nation community, those are generally followed up by Sioux Lookout First Nations Health Authority… For Sioux Lookout itself, we have had a steady number of cases over the past week and we are continuing to do case and contact management. There are no associated outbreaks, but clusters of individuals that we are following up on. Self-isolation is something that we continue, of course, to focus on. And then also, if we feel that there is a broader population being affected, encouraging vaccines. So there have been a number of vaccine clinics this week and there will be a number throughout the rest of this month to encourage people to get vaccinated, and therefore prevent spread."
She added, "It's not rapidly worsening, which is good news, but I think we're still monitoring it closely to see that significant improvement that we would like to see."
Last week NWHU issued workplace-specific instructions from the Medical Officer of Health (MOH) under the Reopening Ontario Act, which came into effect May 13, in response to what NWHU says is a concerning trend in the region.
"We have seen an increase in the number of workplace-related COVID-19 cases and outbreaks in our area over the past few weeks. Upon investigation, we have learned that some individuals are attending work with symptoms of COVID-19," Dr. Kit Young Hoon said in a media release.
The Instructions outlined requirements for owners and operators of workplaces. "In addition to the Instructions, to protect the safety of staff and patrons in local workplaces, NWHU will issue fines to workplaces that allow employees to attend work while symptomatic or while they should be self-isolating," Dr. Young Hoon explained.
In their news release, NWHU said it believes that most workplaces in our area have taken prevention measures seriously and should be commended for their dedication to keep staff and patrons safe. "Unfortunately workplaces not following public health recommendations are contributing to increasing COVID-19 rates in the region. Increasing rates can lengthen the time that current public health restrictions are applied," Dr. Young Hoon said.
Under the new requirements, all employees must pass a COVID-19 screen before entering the workplace. NWHU says if anyone has even one symptom of COVID-19, they should stay home from work, self-isolate, and get tested. Other instructions include ensuring employees are able to maintain two metres of physical distancing, or "If work arrangements or the workplace environment cannot be altered to allow the required 2m distancing at all times, the workers shall be provided with appropriate personal protective equipment including medical grade masks."
Another instruction was to be able to provide a log of all workers present at the workplace during the period directed by NWHU and make this log available immediately upon request by the NWHU.
NWHU says it acknowledges that some individuals may struggle financially if they cannot work. Dr. Young Hoon is urging workplaces to support employees as much as possible during these times, "When employees are supported, it reduces the chance of COVID-19 spreading in your workplace and increases the likelihood that your workplace can remain open. It is a good investment".
More information about the Instructions can be found on the NWHU website at https://www.nwhu.on.ca/covid19/Pages/WorkplaceInstructions.aspx.