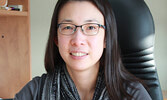 NWHU encouraging COVID-19 vaccine booster doses as active cases in area rise
Tim Brody -
Editor
The Northwestern Health Unit (NWHU) is responding to the recent spike in active COVID-19 cases across its catchment area and is encouraging people to get a booster COVID-19 vaccination.
"Two doses of the COVID-19 vaccine are not shown to provide much protection against infection from the Omicron variant, however, a booster dose does," said Dr. Kit Young Hoon, Medical Officer of Health at NWHU. "Having two doses still provides good protection against hospitalization; however, the new variant is highly contagious, and it won't take many serious cases to overwhelm our health care system locally," Dr. Young Hoon warned.
In response, NWHU is increasing the number of vaccine clinics being offered. "I want to thank staff who have stepped up to make these clinics possible. It required cancelling well-deserved vacation for many, which shows the incredible dedication of our staff and volunteers," Dr. Young Hoon said.
NWHU informed that individuals can receive either Pfizer or Moderna for a booster dose and NWHU will aim to provide the same vaccine as dose two, when available. "Accept the brand of the vaccine for your booster that is offered to you. Mixing vaccine brands between second and third doses does not impact safety or effectiveness," Dr. Young Hoon informed.
On Dec. 20 booster doses became available to anyone aged 18 or older (born in 2003 or earlier) if their second dose was at least 12 weeks (84 days) ago.
NWHU informed that, "Anyone who qualifies for a booster dose of the vaccine should make an appointment at: https://clinicreservation.com/book-now/northwestern-health-unit or by calling 1-866-468-2240. More clinics are being added to the booking system over the next few days. Vaccines are also available from some pharmacies and health care providers."
Speaking to regional media on Dec. 14, Dr. Young Hoon informed that there were 25 active COVID-19 cases across NWHU's catchment area at that time.
As of Dec. 20, the number of active cases across the health unit's catchment area had increased to 117.
The full breakdown of cases can be found at: https://www2.nwhu.on.ca/covid-19/data/.
Dr. Young Hoon also informed regional media that, "Children five to 11 continue to be vaccinated as well. In our region, about 25 per cent of those aged five to 11 have already had their first dose. We expect this rate to rise quickly as we have many appointments booked for children over the next few weeks."
On Dec. 15, the Northwestern Health Unit (NWHU) issued a news release warning the public of an increased risk of COVID-19 infection across the region.
NWHU recommended that residents significantly limit the number of people they choose to gather indoors with.
"The less people you interact closely with, the lower your risk is of getting and spreading COVID-19", Dr. Kit Young Hoon said.
When gathering with others over the holidays, people are being asked to, "consider planning an outdoor visit to lower the risk level, especially if gathering with unvaccinated people."
"It is important for people's well-being to get together and see others, however, doing so indoors comes with more risk. An outdoor activity is safer, and I urge people to consider moving gatherings outdoors to protect your friends and family," said Dr. Young Hoon.
In addition, to prevent the spread of COVID-19, residents are asked to be cautious over the holidays and enhance their prevention measures.
"The prevention practices we're familiar with continue to work – stay two metres away from people you do not live with, practice good hand hygiene, wear a mask when distance cannot be maintained, and stay home when you're unwell", said Dr. Young Hoon.
"If anyone is considering travelling over the holidays, I ask that they rethink their plans. I recommend against travelling outside of Northwestern Ontario at this time. The risk of getting and spreading the Omicron variant is high. Anyone who does travel outside the region should consider limiting non-essential activity with others for 10 days after returning home," Dr. Young Hoon said.
On Dec. 17, Ontario Premier Doug Ford and Ontario's Chief Medical Officer of Health Dr. Kieran Moore announced additional public health and workplace safety measures, including capacity and social gathering limits, in response to the what the provincial government says is a rapidly spreading and highly transmissible COVID-19 Omicron variant.
"These measures will help curb transmission and continue to safeguard Ontario's hospitals and ICU capacity as the province continues to rapidly accelerate its booster dose rollout," the provincial government shared in a Dec. 17 news release.
"Throughout this entire pandemic, we've never faced an enemy like Omicron given how quickly it spreads," said Premier Doug Ford. "We need to do everything we can to slow its spread as we continue to dramatically ramp up capacity to get as many booster shots into arms as possible. Doing so is the best way to safeguard our hospital and intensive care units."
The province shared that, "To further strengthen its response to Omicron and reduce opportunities for close contact as the province gets as many vaccines into arms as possible, Ontario is introducing a 50 per cent capacity limit in the following indoor public settings:
Restaurants, bars and other food or drink establishments and

strip clubs;

Personal care services;
Personal physical fitness trainers;
Retailers (including grocery stores and

pharmacies);

Shopping malls;
Non-spectator areas of facilities used for sports and recreational fitness activities (e.g. gyms);
Indoor recreational

amenities;

Indoor clubhouses at outdoor recreational

amenities;

Tour and guide

services; and

Photography studios and services;
and

Marinas and boating

clubs."
The provincial government clarified that, "These limits do not apply to any portion of a business or place that is being used for a wedding, a funeral or a religious service, rite, or ceremony. Businesses or facilities will also need to post a sign stating the capacity limits that are permitted in the establishment."
To further reduce the spread of COVID-19 and the Omicron variant, additional measures are also being applied:
"The number of patrons permitted to sit at a table will be limited to 10 people and patrons will be required to remain seated in restaurants, bars and other food or drink establishments, meeting and event spaces and strip clubs.
"Bars and restaurants, meeting and event spaces and strip clubs will be required to close by 11 p.m. Take out and delivery will be permitted beyond 11 p.m.
"Dancing will not be allowed except for workers or performers.
"Food and/or drink services will be prohibited at sporting events; concert venues, theatres and cinemas; casinos, bingo halls and other gaming establishments; and horse racing tracks, car racing tracks and other similar venues.
"The sale of alcohol will be restricted after 10 p.m. and consumption of alcohol in businesses or settings after 11 p.m.
"In addition, to mitigate COVID-19 transmission that can occur at informal social gatherings, the province is also reducing social gathering limits to 10 people indoors and 25 people outdoors."
These restrictions came into effect at 12:01 a.m. on Sunday, December 19.
"As the rapidly spreading Omicron variant becomes the dominant strain of COVID-19 in Ontario, it is necessary to apply additional public health and workplace safety measures to reduce transmission, protect our health system and save lives," said Dr. Kieran Moore, Chief Medical Officer of Health. "We all have a role to play in keeping ourselves, friends, families, neighbours and communities safe this holiday season. Please follow all public measures and get vaccinated with your first, second or booster dose if you have not done so already. Omicron will not take a holiday."
Ford shared during the Dec. 17 announcement, "I want to speak directly to the parents out there. I know you're concerned about your kid's schools and what to expect after the New Year. I can tell you this, no decisions have been made on what that looks like yet. We are simply not in the position to say, the situation is evolving too quickly to be able know where we'll be in early January. But what we're working on every single day, with the goal of doing whatever is necessary to protect students and staff."
The provincial government shared in its news release that, "The latest modelling suggests that the increased transmissibility of the Omicron variant could put additional strain on Ontario's hospital capacity, making it critical to slow the spread as the government dramatically increases vaccine capacity and expands eligibility for third booster doses. The province recently doubled its vaccination capacity and continues to ramp up further to get as many vaccines into arms as possible. Over 156,000 doses were administered on December 16, 2021, with capacity increased to 200,000 to 300,000 in the coming days."