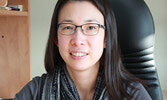 Number of active COVID-19 cases trending downwards in Sioux Lookout, NWHU notes increase in cases throughout the region
Tim Brody -
Editor
The number of active COVID-19 cases in the Northwestern Health Unit's (NWHU) Sioux Lookout Health Hub is trending downwards NWHU Medical Officer of Health Dr. Kit Young Hoon informed regional media on April 23.
However, she said, "We are seeing an increase in cases throughout the region and remind the public to remain vigilant in practicing prevention measures. Do not gather with others who you do not live with. Variants of Concern spread easily and are present in the region."
As of April 26, the 71 active COVID-19 cases NWHU was reporting across its catchment area included: four in the Dryden Health Hub, eight in the Emo Health Hub, 14 in the Fort Frances Health Hub, 29 in the Kenora Health Hub, one in the Rainy River Health Hub, three in the Red Lake Health Hub and 12 in the Sioux Lookout Health Hub.
Dr. Young Hoon told regional media on April 23 that seven of the cases in the Sioux Lookout Health Hub were in the Municipality of Sioux Lookout. The number of active COVID-19 cases in the Sioux Lookout Health Hub has dropped from 34 actives cases reported by NWHU as of April 10; dropping further from 17 active cases reported as of April 25. The number of active COVID-19 cases in the Municipality of Sioux Lookout has also dropped by more than half from the 16 active cases reported by NWHU as of April 10.
NWHU defines the Sioux Lookout Health Hub region as including: Sioux Lookout, Pickle Lake, Hudson, Bearskin Lake, Cat Lake, Deer Lake, Kee-Way-Win, Lac Seul, Neskantaga, MacDowell Lake, Muskrat Dam Lake, North Spirit Lake, Osnaburgh, Pikangikum, Poplar Hill, Sachigo Lake, Sandy Lake, Slate Falls and Weagamow Lake.
Asked about case numbers trending downward in the Sioux Lookout Health Hub, Dr. Young Hoon shared, "Cases do go up and down on a daily basis. I think that case numbers in Sioux Lookout appear to have a trend of gradually going down… it could be a number of reasons, people following public health measures… it could indicate that there is a decreasing risk in Sioux Lookout."
She noted, "There are Variants of Concern in a number of health hubs in our area, but primarily the Kenora Health Hub and the Dryden Health Hub, and we've noted a few cases in Sioux Lookout Health Hub."
"We have seen primarily the UK Variant. Similar to the rest of the province, it's been the UK variant. We did receive information on a variant that was not a UK variant, but it was not a Variant of Concern, it was a variant that is not considered to be of a higher risk, compared to the regular virus," she added.
As some Ontario hospitals in southern Ontario deal with a surge in hospitalizations and admissions to their intensive care units due to the third wave of the virus in Ontario, some patients are being transferred to other hospitals in the province.
"That is a general strategy that is being used by the province right now. Intensive care unit space is limited in southern Ontario and it is required, at this point, to transfer patients to other locations in order for them to get the care that they need," Dr. Young Hoon confirmed. "That could mean transferring them to our location. At this point I'm not aware of any transfers that have happened into our region," she explained.
Sioux Lookout Meno Ya Win Health Centre (SLMHC) shared with The Bulletin, "We are aware of the province's direction and are prepared should we need to help in anyway. At this time, we have not been impacted."
SLMHC also confirmed it has a COVID-19 isolation unit.
SLMHC also confirmed it is ramping down non-emergent and non-urgent surgeries and procedures in line with a revised directive issued by Ontario's Chief Medical Officer of Health, aimed at preserving system capacity to deal effectively with COVID-19.
"Any patients who are affected will be contacted directly with appointment details. We thank everyone for understanding, and similar to last spring, when our non-emergent procedures were also paused, we remind everyone that if they have questions about any procedures or surgeries, they can speak to their doctor/health care provider or contact us at 737-3030 if they have specific questions about scheduled procedures/surgeries," SLMHC advised.
"We want to take this time too to remind our patients and clients that we have visitor restrictions in place and encourage everyone to abide by public health direction and the current stay-at-home order," SLMHC shared, adding, "We still have COVID-19 screening in place and our main entrance is open for outpatient appointments, while the Emergency entrance is for those coming into Emergency. Our Ambulatory entrance remains closed. Information about our entrances, restrictions and other COVID-19 processes are on our website at www.slmhc.on.ca/covid19."
SLMHC further advised that, "Due to the increase in COVID-19 cases in our region, SLMHC is reminding those looking for COVID-19 testing to contact the Assessment Centre at 737-5880 to book an appointment. SLMHC advised that the Assessment Centre is receiving a high volume of calls, so SLMHC is reminding the public to leave their name and phone number so staff can call individuals back to book appointments."
Dr. Young Hoon informed that as of the morning of April 23, "Nearly 22,000 doses of COVID-19 vaccine have been administered in the Northwestern Health Unit region."
Currently, eligible groups in our area who can book an appointment for the COVID-19 vaccine include:
Anyone aged 60 years or older (anyone born in 1961 or earlier)
Those with highest risk health conditions (see https://bit.ly/3dPk9pv) and their caregivers
Pregnant people
Other eligible groups include:
Health Care Workers, including staff who work in congregate living settings
Adult Home Care Recipients
Faith leaders
Indigenous adults, including Metis (and their household members)​
Anyone with high risk health conditions
Anyone aged 40+ who would like to receive the AstraZeneca shot from a participating pharmacy can learn more on the Ontario Vaccine webpage​, https://covid-19.ontario.ca/vaccine-locations.
People can find out more about booking an appointment for the COVID-19 vaccine at https://bit.ly/3dT1YQ5.