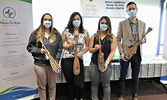 NOSM learners reflect on experience of learning and living in Sioux Lookout
Tim Brody -
Editor
Four third-year Northern Ontario School of Medicine (NOSM) learners have wrapped up their time in Sioux Lookout.
Alison Lewis, Stephanie Stevens, Felicia Lotsios and Joseph Boyle began their Comprehensive Community Clerkships (CCC) with Sioux Lookout Meno Ya Win Health Centre (SLMHC) on August 24, 2020.
The learners ended their time in Sioux Lookout with a farewell on March 31, which was attended by their preceptors, Site Administrative Coordinator Michelle Hrynchuk and Site Liaison Clinicians Dr. Celia Sprague and Dr. Maija Robinson.
During their time here, the learners have been exposed to the following health centre departments: Emergency, Inpatients, Pre and Post Maternal Care (3 weeks), Lab, Fracture Clinic, Rehab, Dietetics, Wounds care, Cardiac Stress Testing and Respiratory Therapy, both clinics – Northern Appointment Clinic (NAC) and Hugh Allen Clinic (HAC), Optometry, Surgery (2 weeks), Anesthesia (1 week), Infectious Diseases (1week), Chemotherapy and Ear, Nose and Throat clinic.
"Upon their arrival, they received an introduction to the hospital / Sioux Lookout First Nations Health Authority (SLFNHA) departments, two day Anishinaabe Cultural Training course and the Code White/Pinel Restraint Course. Slate Falls kindly donated an aerial tour of Sioux Lookout and the area to give the students the opportunity to view the lay of the land which they would call home for just about 8 months," Hrynchuk explained. She added, "The Sioux Lookout Rotary Club graciously donated lobsters that the students got to enjoy at their residence at Abram Lake Park. Their time was split between both practices serving the town people with HAC and the North with NAC. Each of the students were able to be placed in a Northern Community two to three times for a week at a time. A lot of teaching after hours had taken place allowing them exposure to topics which they may not have been exposed to. Over the course of their time here, on average the students received 400 hours of teaching with our physicians and about 100 hours with allied health care workers."
Hrynchuk shared of the farewell for the learners, "Food and laughter exuded the room as stories of their time here was enjoyed, as well as what is in the future for these aspiring MDs to be. Beautiful doctor related cookies made by Whisk and Wildflower (Chelsea Rudd) were enjoyed by all. The students each received a handmade paddle painted by Chelsea Greig which depicts their personalized Native American Zodiacs adorned with their Spirit animals, plants, colors, clans and stones. As well they received other gifts such as Sioux Lookout hoodie and mug, a book on self-care, reusable cutlery and a beaded turtle keychain to always remind them to stay firm, grounded, focused and to move slowly with determination and will power."
The Bulletin asked the learners:
What was your Comprehensive Community Clerkship (CCC) experience with Sioux Lookout Meno Ya Win Health Centre (SLMHC) like?
What was a highlight of your CCC with SLMHC?
What was a highlight of living in Sioux Lookout these past eight months?
What's next for you?
Is there anything you would like to share with the community?
These were their responses:
Alison Lewis
1. My CCC experience at Sioux Lookout Meno Ya Win Health Centre has been a fantastic experience. I have felt so welcome from the very beginning and have gotten to know so many people. We have had the opportunity to work in many areas of practice including clinic, emergency, obstetrics, fracture clinic, day medicine, hospitalist, surgery, infectious disease and many others. It is amazing to see what possibilities there are for family medicine here.
2. One of my highlights has been working in obstetrics at SLMHC. I have found this experience amazing and have learned so much. I have enjoyed the high volume of deliveries as well as working with a high number of Indigenous patients.
3. Living in a cabin on the Lake in Sioux Lookout has been very enjoyable. I have been able to get outside a lot this year and enjoy the walking trails and the beautiful views of the lake. Golfing, mountain biking, hiking, canoeing, cross country skiing, playing hockey and skating on the lake have been some of the many activities I have enjoyed while here.
4. For 4th year, I will be mostly in Thunder Bay for my core rotations. I will also be doing an elective in Dryden, and will be coming back to Sioux Lookout for an elective in obstetrics! I plan to pursue family medicine somewhere in northwestern Ontario, but still haven't decided exactly where that will be.
5. Thanks so much to the Community of Sioux Lookout for engaging with us. Despite the pandemic, we have been able to see what Sioux Lookout has to offer and have very much enjoyed our time here. I am looking forward to returning for my elective!
Stephanie Stevens
1. My CCC experience in Sioux Lookout was a memorable one! I feel like I have learned and grown so much over the past 8 months. I have had the opportunity to work with so many amazing physicians and allied health professionals, all of whom have gone above and beyond to help me on my journey through medicine. I am so grateful to have had the opportunity to learn within the clinics, the hospital, and in a few of the Northern communities. I truly feel that my time in Sioux Lookout will shape me into a more compassionate, competent, and effective clinician.
2. It's hard to pick just one as I feel like I have had many! Having the opportunity to witness and practice remote medicine in the Northern communities was an amazing experience. I was able to witness the beauty of the North, meet some amazing people, and gain a better appreciation for the disparities faced by Indigenous populations. I hope what I learned will make me a more empathetic physician and effective advocate for such populations. As well, I loved getting to be involved in the deliveries of so many beautiful babies!
3. One highlight is that I had a real taste for what rural living is all about! Coming from Thunder Bay, I am no stranger to the region, but I am used to living in a larger centre with malls, Starbucks', the movie theatres...I realized how much I love living in a rural community, and Sioux Lookout had so much to offer - even in a pandemic! My friends and I were able to enjoy the outdoors - hike Sioux Mountain, canoe, skate, and hike the Cedar Bay trails to name a few! And of course - the people within the community are what make Sioux Lookout so great! All of the people who were involved in my learning this year - physicians, nurses, my SAC and SLCs, allied health professionals, and of course, the patients - all made me feel so welcome!
4. My fourth year is fast approaching! I will be in Thunder Bay completing my medical education, but I am returning to Sioux Lookout this summer to further my knowledge and skills in rural medicine! My plan has been to become a family physician, hopefully practicing within Northwestern Ontario one day. I always thought I'd end up in Thunder Bay, as that is where my family is; however, I am realizing just how much I love living and working in a rural community...so maybe rural medicine is where I will be. We shall see what the future holds!
5. I just want to say an extremely big thank you to all of the patients who allowed me to have been involved in their care. I imagine it can be hard, especially in vulnerable times, to share your stories with not only a student, but a complete stranger. Every encounter I had was incredibly valuable to my learning, so thank you so much for your patience and time! Overall, the people and community of Sioux Lookout is what made my CCC year so amazing.
Felicia Lotsios
1. If I had to put it into one word, exceptional. Our Site Administrative Coordinator, Michelle Hrynchuk and Site Liaison Clinician Dr. Celia Sprague and Dr. Maija Robinson have really went above and beyond to ensure our learning goals were met during our time at Sioux Lookout Meno Ya Win Health Centre. Each physician I have had the opportunity to work with was encouraging, knowledgeable, enthusiastic and patient focused. All of the staff was very welcoming from day one and truly made for a memorable experience.
2. It would be very difficult for me to only speak to one highlight during my CCC with SLMHC. I think being able to work in so many clinical settings and learning from varying preceptors, allied health professionals, and staff to be a true highlight. I spent time at the Hugh Allen Clinic and Northern Appointment Clinic, fracture and rehabilitation, long-term care, and being on hospitalist. I had great exposure to surgery, infectious disease, OB, and anesthesia. I absolutely loved flying north and getting to experience practising medicine in rural and remote communities.
3. The highlight of living in Sioux Lookout these past eight months has probably been exploring the area. It has always been a dream of mine to skate on the lake without the heavy snow fall. It was honestly incredible and a memory I will never forget. Living at Abram Lake Park has been so enjoyable with my roommates who now I consider colleagues and close friends. I have hiked most, if not all trails and visited each local coffee shop (definitely more than once!). The Sioux Lookout Skating Club also welcomed me with warm arms to coach the Learn to Skate Program during the fall season.
As mentioned before, I have not only had the opportunity to live in Sioux Lookout, but spend weeks at a time in different northern communities. Even with the pandemic, I was able to get local tours, visit the ice roads, check out some trails, and support the COVID vaccination clinics. I have loved every moment of living in Sioux Lookout and travelling north to communities, and hope to return in the future for some summer fishing, and attend the Lobster and Blueberry Festival.
4. Next, I will be returning to my home community of Ignace, Ontario. Most of our upcoming exams are virtual, including our orientation to fourth year. My family (including dogs) are really looking forward to having me back for the month. In May, I will be moving back to Thunder Bay to start my fourth year on a cardiology rotation. I am hoping to apply to a rural family medicine residency program and be back in Sioux Lookout in the future!
5. Thank you so much to everyone that has made this CCC experience so memorable. It is truly an honour to have been able to spend eight whole months in Sioux Lookout and get know the surrounding area.
Joseph Boyle
1. What an excellent experience! From the beautiful hospital to the kind staff to the wonderful patients, it has been so meaningful from start to finish.
2. The highlight of my learning has without a doubt been the fantastic doctors that we have got to work with this year. Every single one of them has been so supportive; I couldn't have asked for a better clinical experience.
3. There have been so many great moments! If I'm going to pick one, I'll say cross-country skiing, especially being able to ski right on the lake outside our house.
4. It will be a quick turnaround for me; we head back to Thunder Bay to write a couple exams, then our fourth year starts almost right away. In a few weeks I will be starting my first rotation (surgery!) of our last year of medical school. I'm hoping this year will set me up well to start residency in emergency medicine in 2022.
5. I would just like to express my heartfelt gratitude to the community of Sioux Lookout and all of the northern communities that have been so welcoming to us this year.
Thank you so much to the people I have met this year. Every patient has been my teacher, and I feel so lucky to have spent so much time in Sioux Lookout and up north.
"Sioux Lookout Meno Ya Win Health Centre has really enjoyed hosting NOSM students over the years. We always love hearing how much the students enjoy their time in Sioux Lookout, getting valuable hands-on experience at our facility and in First Nations communities. We hope our most recent students share that same testament, and we wish them all the best as they pursue careers in the medial field," SLMHC President and CEO Heather Lee concluded.