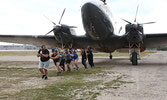 North Star Air BBQ and Plane Pull
Three teams competed to be quickest to pull and then push a 17,500 pound North Star Air Basler BT67 forwards and backwards on a marked course at the North Star Air hanger in Sioux Lookout on August 5 during the Sioux Lookout Blueberry Festival.
The top team Pull it like you stole it, made up of 10 members, completed the pull and push in 41 seconds.
Coming in second, also with 10 members, was the team of AmPULLance, who turned in a time of 42 seconds.
Coming in third, with an eight member team, was We got the Pull, who completed the event in 53 seconds.
Hot dogs were available at the event in exchange for donating non-perishable canned goods.
"We took in $350 and over 50 lbs of canned goods, all donated to the First Step Woman's Shelter," Base Manager Tracy Krosschell shared.