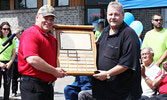 Nominations being accepted for Jack McKenzie Memorial Award
Tim Brody - Editor
Sioux Lookout has no shortage of exceptional volunteers and the Rotary Club of Sioux Lookout is asking people to put those volunteers' names forward as candidates for the John Alexander "Jack" McKenzie Memorial Award.
Presented annually during the opening ceremonies of Sioux Lookout's Blueberry Festival, the award is named in memory of the late Jack McKenzie, who the Rotary Club of Sioux Lookout describe on their website as, "an outstanding volunteer who, for many years, served on a wide variety of committees and organizations."
"Rotary's motto is "Service Above Self"; that is what brings people to Rotary around the world.
"Rotary Sioux Lookout has presented this award annually since 1992 because we feel it is important to recognize service within our community. The Jack McKenzie award is an avenue for our community to recognize those who serve so selflessly for the benefit of others," Rotary Club of Sioux Lookout member Susan Barclay shared.
Nominations for the 2019 award will be accepted up to July 15.
The Rotary Club of Sioux Lookout outlines on their website:
In order for a nominee to be considered eligible to receive this award, they must meet all of the following criteria:
Must have resided in Sioux Lookout or the surrounding area for at least the preceding 12 month period usually from August 1 of the preceding year.
Must not be a current Rotarian
Must not have received remuneration for any service(s) performed considered to be part of the nomination
Has actively volunteered during the preceding twelve month period from the award presentation date
The following circumstances are deemed to be acceptable for the consideration of potential nominees' eligibility:
Updated and resubmitted nominations for a previous non-recipient nominee
Posthumous nominations where the deceased passed in the preceding 12 month period from the award presentation date. All posthumous nominations must still meet the above criteria
Previous recipients of the Jack McKenzie Memorial Award have included: 1992 - Margaret Atwood, 1993 - Rose Caswell, 1994 - Jack Carroll, 1995 - June Wallace, 1996 - Ella Williams, 1997 - Les Johnston, 1998 - Marnie Hoey, 1999 - Beth Daley, 2000 - Wally Glena, 2001 - Emma Bowes, 2002 - Muriel Anderson and Wayne C. Pearen, 2003 - Paul Brown, 2004 - Mario Facca, 2005 - Rachel George, 2006 - John D.Cole, 2007 - Jack Reek, 2008 - Attilio Durante, 2009 - Christine Hoey, 2010 - Eileen Jefferies, 2011 - Sandra Lockhart, 2012 - Althea George, 2013 - Peggy Sanders, 2014 - Gail Roy, 2015 - Florence Woolner, Terry Lynne Jewell, Aileen Urquhart, and Faith Ferre, 2016 - Michela Pauselli Salter, 2017 - Nordic Nomads Ski Club - Ron Laverty and John Davies, 2018 - Bruce George.
People can submit applications online at https://portal.clubrunner.ca/992/sitepage/jack-mckenzie-memorial-award, or pick up application forms at the Sioux Lookout Travel Information Centre as well as Fresh Market Foods.