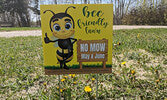 No Mow May and June in Sioux Lookout supporting honeybees and other pollinators
Reeti Meenakshi Rohilla -
Staff Writer
The Municipality of Sioux Lookout, along with several other area municipalities have declared May and June as Honeybee Appreciation Months, allowing all properties, private and commercial, to exceed the maximum height permitted for grass and/or weeds during these months.
Sioux Looking Environment Committee Chair George Hoggarth said, "I believe one of the reasons for No Mow in May and June is because a lot of times, some of the flowers that the bees get pollen from, they haven't developed yet. But, our wonderful friend dandelions and clovers, they come up fairly quickly, so they provide a boost for the bees that have been over wintering, because they need that. Pollen is basically protein, and they need that to feed themselves and to feed their young."
Hoggarth shared that the idea to initiate Honeybee Appreciation Months emerged as part of the Environment Committee's goals for the year 2021, allowing plants/weeds to grow and flower, and subsequently produce food for bees, and shelter for other wildlife. He said, "The Environment Committee is very pleased that the municipality has gotten behind this No Mow initiative."
Hoggarth said that with input from a Dryden-based beekeeper, Reagan Breeze, who made presentations to municipal councils in the northwest area, Sioux Lookout council declared May and June as Honeybee Appreciation Months in Sioux Lookout. He explained that bees feed pollen to their larva, without which they are unable to produce offspring. Hoggarth stressed that there are several other kinds of bees, apart from honeybees that are also contributors to pollination, and would benefit from this initiative, as well as other pollinators such as butterflies, bumble bees, flies, yellow jackets, and hornets.
Breeze said, "I did a proposition proclamation to respected municipalities and cities within (the) 807 area code, and we have everybody on board." He added, "This is just something that's just educational for everybody to learn and understand how important our pollinators and honeybees are. They are vital and they are on a decline, and this is where we need to shape up, and something so simple, by leaving their dandelions without pesticides and herbicides, getting rid of all that stuff, going back to old traditional ways of gardening and stuff, this a key component to help sustain a more healthy environment…to create a more bio-diverse ecosystem and sustain it for years to come." Breeze also trains junior beekeepers.
"Even though the honeybees and pollinators are such a small component that we may not see all the time, they are the one thing that gives us one third of the food that we eat on a daily basis. They also entertain the fact that the clothing that we wear is actually from the bees. They are the first domino in the domino set, and if they fall, everything else in a couple of years to come after that will fall at the same time as well. It is also said that within four years of the disappearance of the honeybees, human species would also be gone," said Breeze. He added that while weeds are often colorful, harmless and edible plants, several people might be ignorant about their importance in the ecosystem.
Breeze said, "A lot of people are ignorant against weeds. But, they are colorful, and they don't harm in any way, shape or form, and most times they are very edible."
Hoggarth shared another quick and easy contribution that could be made to foster a healthier bee population. He said that a lot of the bees lay eggs in small hollow structures, which could also be created by simply drilling some holes in a piece of wood. He suggested that parchment paper could be lined in those holes that can later be replaced and is a quick clean.
"I am looking forward to a whole lot of people allowing plants to grow in their yards so that we can feed the bees and also like I said, so that the bees can pollinate all of our different flowers that we need pollinating," concluded Hoggarth.