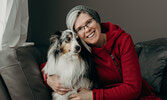 Nicole Rose turning heads with her photographic talent
Tim Brody - Editor
A Hudson photographer has been honoured for her talent three times now by a Facebook photography magazine.
Nicole Rose began submitting images to Digital or Not Fine Art Photography Magazine about two weeks ago.
Encouraged to submit by a friend and fellow photographer, Denise Nadine of British Columbia, Rose placed Top 10 Black and White Monotone photography category on January 23, Top 10 Black and White Monotone on January 25, and Top 10 selected authors for Children's Photography on January 26.
The Bulletin recently spoke with Rose about her accomplishments.
What can you tell us about this magazine?
It is solely a Facebook publication that features fine art images submitted by photographers all around the world. The images are submitted through another page and have to be approved for submission, and then to be considered for publication, the image must then be nominated for judging by one of the page administrators. About three times per week the images are judged and top tens are awarded. The submission group has about 50,000 members and the magazine itself has over 100,000 followers.
Looking at their Facebook page, there are some really beautiful images there. How does it feel to have your work selected as top ten worthy three times now?
I am over the moon. Just to be nominated is a huge honour and to place top ten even once was well beyond my expectations. To place three times in a single week was almost surreal. The talent in the group is phenomenal and I am thrilled with every nomination I receive.
Tell us about the encouragement you received from your friend Denise to begin submitting your work for competition.
I felt I was ready to start submitting my images for competition and Denise, who has been a judge herself for other competitions, suggested Inspire. She has been very encouraging and supportive.
How long have you been doing professional photography now?
For just under a decade I think. I did take some time off due to personal commitments, but I was drawn back to it as my youngest became more independent and I had more time to devote to it.
What got you interested in photography?
I think I've always been fascinated by photographs, especially black and white images. I've collected old family photographs since I was a teenager and I cherish them. I want to provide those kinds of treasures for my clients. Photography is so important.
Tell us about your journey from having an interest in photography, to operating your own photography business: By the Moment Photography.
I originally bought a digital camera when my children were young. I caught the photography bug pretty quickly; really I think it would be fair to call it an obsession. I started out with it just as a hobby, but when my niece was married I did her wedding photos and soon I was being asked to photograph other weddings. My business grew from there. The Hudson / Sioux Lookout / Lac Seul area has been very good to me. I still maintain a full time job and run my photography business on the side. I am very fortunate to have a studio in Hudson.
What photographic services to you currently offer?
Engagements, maternity, newborn, child and family photography, and also pets. My schedule doesn't really allow for weddings. I'm hoping to see more demand for fine art images in the future. The photos really are heirloom pieces that will be passed down generations.
Do you have any advice for people who would like to give something new a try?
It's a great time to learn or explore your passions. The internet has opened up a whole world of knowledge. I've learned a lot of what I know about photography from YouTube, as well as from online tutorials and workshops produced by other photographers.
Is there anything else you would like to share with our readers?
If you really have a passion for something, don't quit. It doesn't matter your age, or where you live, or who you are. Don't let any false notions stand in your way.
People can view Rose's work on Facebook @inspirefineartphotographymagazine.