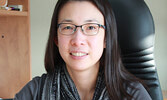 New proof of vaccination rules for coaches, officials, volunteers, and spectators
Tim Brody -
Editor
Medical Officers of Health from all seven Northern Ontario public health units have issued a letter of instruction to owners and operators of facilities where organized sports are played and/or practiced indoors, under the Reopening Ontario Act, requiring all persons aged 12 years and older who are entering the facility for the purpose of coaching, officiating, volunteering, or spectating, to provide proof of COVID-19 vaccination or a valid medical exemption effective October 14.
Northwestern Health Unit (NWHU) Medical Office of Health, Dr. Kit Young Hoon told regional media on Sept. 29, "Activities related to organized sports have the potential to enhance COVID-19 transmission, specifically close contact, forceful exhalation, prolonged exposure, crowded indoor spaces and masks and face coverings removed during physical activity, contribute to enhanced likelihood of COVID-19 transmission. These risks for enhanced transmission are combined with the risk of increased spread within and between communities, given the composition of organized sports teams and their associated travel. Verifying proof of vaccination for persons 12 years and older in the facilities noted above, in accordance with the letter of instruction, will strengthen protections for communities within Northwestern Health Unit's service area by helping to curb the spread of COVID-19."
Young Hoon also shared with regional media, "The risk of COVID-19 transmission is high in the Emo area…Anyone who has symptoms of COVID-19 should get tested and self-isolate until the results are known. I recommend people in that area avoid large group gatherings even if they fall within the gathering limits."
Young Hoon further commented, "Our vaccination efforts continue and I urge anyone who has not yet had their COVID-19 vaccinations to do so as soon as possible. Information about booking and walk-in opportunities can be found on our website (https://www2.nwhu.on.ca/). Our vaccination rates continue to rise. We now have 86.5 per cent of our population 12 and older with one dose and 79.2 per cent with two doses of the COVID-19 vaccine. I am pleased to see this increase in our coverage rates."
As of Oct. 4, NWHU was reporting 19 active COVID-19 cases across its catchment area.