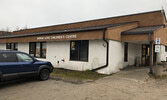 New child care spaces announced for Sioux Lookout
Tim Brody - Editor
Forty new child care spaces are coming to Sioux Lookout.
In the fall of 2018, the Kenora District Services Board (KDSB) purchased 54 Princess Street, the Norah Love Children's Centre, from the Municipality of Sioux Lookout.
KDSB Chief Administrative Officer Henry Wall shared of that purchase, "The KDSB did purchase the building from the Municipality and that was in light of the municipal child care operations moving in to the schools, in particular Sioux Mountain, which then created an opportunity where the building was going to be empty and we had this opportunity come up through the Journey Together programming and Aboriginal Head Start in Sioux Lookout to look at that and actually create more child care spaces in the community."
Wall clarified, "I think some families are wondering if the KDSB is taking over child care altogether and this isn't an attempt at that at all... we're not taking over the municipal operations."
Sioux Lookout Mayor Doug Lawrance commented, "Sioux Lookout Municipal Council continues to recognize the growing need for child care in our community. The sale of the Norah Love building to KDSB is part of the plan that facilitates the creation of additional child care spaces in Sioux Lookout from 2018 to 2019. Council is very appreciative of the work done by Municipal Staff and KDSB to make this happen. We also acknowledge the patience of child care staff and parents as we transition to increased spaces."
"Initially, Norah Love was licenced for 33 child care spaces. Those spaces have been transitioned over to the schools, and this is an additional new 40 spaces to Sioux Lookout," Wall shared.
In early winter, the children attending Norah Love Children's Centre transitioned over to Sioux Mountain Children's Centre, a move which created five new child care spaces.
The 54 Princess Street building will be operated by the KDSB with Waninawakang Aboriginal Head Start providing programming and staffing.
Wall shared, "It will offer families in Sioux Lookout a child care program that is also culturally based as well."
He said the program will be fully inclusive and open to the entire community.
He said of Sioux Lookout, "It is becoming a much more diverse community, which I think is something that really should be celebrated, and so with that, we see this as our programs, especially child care, that supporting our families, is keeping up with change as well. It's embracing that diversity and making sure that all families, number one – have access to child care that is also affordable, but also access to child care that is delivered in a way that meets their needs as well."
Norah Love, which had been licenced for 33 child care spaces, will be undergoing renovations to increase the number of child care spaces it will be able to offer to 40.
The renovations will also allow for the building to be fixed up.
"The building does need a substantial amount of work. It's an older building and it's showing its age," Wall informed.
In an article published by the Sioux Lookout Bulletin last year, Municipal Day Care Manager Kelly Negus had stated Municipal child care centres were looking for additional teaching staff.
Asked if staffing might be a concern when adding 40 new child care spaces in Sioux Lookout, wall stated he could foresee staffing being a challenge. "Across the region; it speaks to a lot of the professions in our communities. It's difficult to get trained staff with the right qualifications and this will be no different. Access to ECE's (Early Childhood Educators) is a challenge across northern Ontario. That's something we're very mindful of and have seen build up over the past number of years."
Wall explained, "Transitioning the standalone child care programs in to schools that was an intuitive that was started by the Ministry of Education and the KDSB a number of years ago. It has taken a while to get all the capital in place to make it happen. What happened during that time is we had an opportunity through the Journey Together programming, and were successful in retaining operating funds and capital funding to establish, I think all said and done it's about 250 new child care spaces across the region."
Wall went on to state, "With all of our communities, we've been engaged with the colleges as well to ensure that they too are gearing up for this additional capacity."
Wall said he felt recruitment strategies, such as those used to recruit physicians, should be created to bring ECE's and other professionals to our area.
"We are pleased to operate ten infant and 30 toddler spaces at 54 Princess Street and expand programming to offer more child care spaces to families in Sioux Lookout," said Clarise Henrickson, Executive Director of Waninawakang Aboriginal Head Start. Waninawakang Aboriginal Head Start's current location, 66 Princess Street, will continue to operate two classrooms of 16 preschoolers.
"You'll notice a building that has arrived at Aboriginal Head Start, a portable; it's meant to be put in to service so we can start almost immediately with the expansion of some of the licenced child care spaces. It's going to be temporary while construction and renovations are taking place," Wall said.
He clarified, "It's going to take a bit of time. We're looking at mid-2019 or so, possibly beyond that for the completion of these renovations."
He stated once the building is finished, "It's going to be a beautiful space in terms of incorporation of culture and I think it's something that Sioux Lookout will be very proud of once it's done."
Wall said people can apply for the new child care spaces by contacting The Municipality of Sioux Lookout, at 807-737-2700, or Waninawakang Aboriginal Head Start at 807-737-7519
"While adding another 40 spaces is so needed in the community of Sioux Lookout, it could probably afford to have more with the need that we're hearing," Wall concluded.