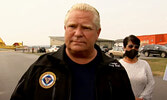 NDP MPPs, NAN Grand Chief, share frustrations at Premier's refusal to declare State of Emergency
Tim Brody -
Editor
Ontario Premier Doug Ford was in Thunder Bay on July 28 visiting the Ministry of Natural Resources and Forestry Fire Management Headquarters and meeting with evacuees and community leaders.
On July 12, Nishnawbe Aski Nation (NAN) Grand Chief Alvin Fiddler called on the Government of Ontario to declare a State of Emergency to trigger an immediate response to assist remote First Nations communities threatened by forest fires raging across northern Ontario.
NDP MPPs Sol Mamakwa (Kiiwetinoong) and Judith Monteith-Farrell (Thunder Bay – Atikokan) had written to Ford in a July 22 open letter requesting that he take immediate action on the fires burning across the North.
"We are asking you, Premier Doug Ford, to send more help and to declare a state of emergency now. More resources on the ground are needed, without delay, in order to successfully fight these fires and make communities safe again. This includes more helicopters, water bombers, and more firefighters."
Speaking with members of the media in Thunder Bay, Ford said, "We've evacuated over 3000 people so far and anyone that needs to be evacuated, we'll be there to support them."
When asked if he would declare a State of Emergency he responded, "I think there's a little confusion what a State of Emergency is. It's not going to add any more resources, it's basically the province coming in, taking over everything. We believe in working in collaboration, cooperation with First Nations, with municipalities, that's the only difference is the province will come in and say 'you can't go down this road', there's already emergency orders put in place, so it's not holding back any resources. We will put all the resources we have, I won't spare a penny, we'll make sure we're there to support the people of northwestern Ontario."
"We're throwing absolutely everything we have at this," he added.
Due to extreme fire hazard and increased forest fire activity, an Emergency Area Order was issued for all of Northwestern Ontario on July 14. The order, issued through the Ministry of Northern Development, Mines, Natural Resources and Forestry, allows the ministry to, "take special measures to ensure the safety of people and the protection of critical infrastructure."
Mamakwa and Monteith-Farrell called the Premier's refusal to declare a State of Emergency "callous" in a July 28 statement.
"For 20 days, wildfires have been raging around Pikangikum residents, and they've been breathing air dangerously thick with smoke," said Mamakwa. "How could the provincial government abandon these 1,300 souls, like they don't matter? Doug Ford should be moving heaven and earth to get those people airlifted to safety, and put the resources in place to give them a safe place, where they can access medical care and temporary supports."
"We share in the frustration of First Nations people who have been waiting for weeks for help and resources from the Ford government," said Monteith-Farrell. "Folks in the North, including First Nations residents and people who live in remote communities, deserve help and resources, just like southern Ontario residents would get. The trauma to families, the risk to lovingly-built communities, and the danger are a serious emergency, and Doug Ford should be treating it like one."
Nishnawbe Aski Nation (NAN) Grand Chief Alvin Fiddler shared frustration over the province's fire response in a July 28 news release.
"I look forward to today's visit by Premier Ford so he can hear first-hand the growing frustration of our members who have been forced from their homes with little or no support. I will remind the Premier that saying they are 'throwing everything they have' at the situation only means the resources the province has at hand, which are simply not enough," Fiddler said. "Pikangikum is waiting to evacuate 1,300 people and there is nowhere to accommodate them, and no one to care for them. If another community must evacuate there will be nowhere for them to go either. We appreciate that host communities are trying to do their best, but the continued failure to respond with every possible resource makes us question if this government understands, or even cares, about the threat to First Nations."
NAN stated that a State of Emergency would, "eliminate barriers and give the province the authority to access more accommodations, resources and supports that are desperately needed. This includes wraparound supports to help evacuees while they are away from their homes, including access to health care and mental health services."
According to NAN some remote communities have been left without health care and policing, as federal and provincial staff have been pulled from some communities.
"During the worst fire season in a decade, there is potential for large-scale evacuation of thousands of NAN community members, possibly at the same time if the weather unfolds as predicted. Up to 6,000 residents may need to leave their communities, leaving the province short up to 1,500 beds.
"Nearly 3,200 people from five NAN First Nations communities have been evacuated. Deer Lake and Poplar Hill are fully evacuated, while Pikangikum, Cat Lake, and North Spirit Lake are partially evacuated. Bearskin Lake, Sachigo Lake, Keewaywin, and Sandy Lake are on high alert. Evacuees are at host communities in Thunder Bay, Kapuskasing, Cochrane, Cornwall, Timmins, Sudbury, Sioux Lookout, Sault St. Marie, and the Peel Region," NAN's news release informed.
As of the evening of July 29, the Ministry of Northern Development, Mines, Natural Resources and Forestry's Aviation, Forest Fire and Emergency Services (AFFES) reported that there were 148 active fires burning in the northwest region.
Due to the high to extreme forest fire hazard, a Restricted Fire Zone (RFZ) remains in place in the Kenora, Fort Frances, Dryden and Thunder Bay Districts and portions of the Sioux Lookout, Red Lake, Nipigon and Wawa Districts.  The Restricted Fire Zone will be in effect until further notice. Outdoor fires are banned. Portable gas stoves may still be used BUT must be handled with extreme care.
People can learn more about Restricted Fire Zones at https://www.ontario.ca/page/outdoor-fire-restrictions.
People can find information about forest fire activity in the area and view an interactive map at: https://www.ontario.ca/page/forest-fires.